CBSSports.com Super Bowl XLIX predictions
Who says you can't predict the Super Bowl winner five months out? Nobody, and that's why we're stepping out with our calls on who makes the Super Bowl XLIX, and who wins.
by

Eye on Football staff

• 7 min read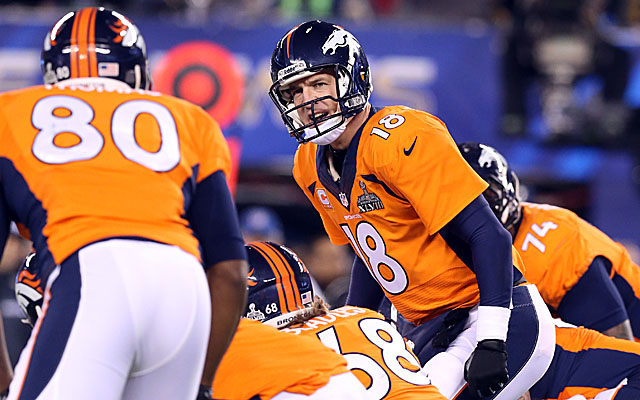 We're a good five months and an entire regular season away from having an idea who will play in Super Bowl XLIX.
A lot can happen in that time. But we're going to use the information at hand to make -- and explain -- our Super Bowl picks before the season even kicks off.
Just to sweeten the pot, we're going to tell you the matchup and the final score. Agree? Disagree? Let us know in the comments section, or find the crew on Twitter to give them your thoughts.
Super Bowl XLIX picks
PETE PRISCO | Matchup: Denver Broncos vs. Green Bay Packers
Winner, score: Broncos, 38-35
Why? This is a quarterback-pass rush league and I think both of these teams will be good in both areas. Peyton Manning and Aaron Rodgers are arguably the two best QBs in the game. Each will have a special season in terms of numbers.
The Broncos added DeMarcus Ware to go with Von Miller , which means two good outside pass rushers. The Packers added Julius Peppers to go with Clay Matthews , also giving them two good outside rushers. That matters.
Rodgers and Manning will carry their teams to the Super Bowl, and both will have big games in it. But I think Manning's team is just a little better, which is why I see them making amends for that poor performance in last season's Super Bowl.
This is a new year. The line is better. They will protect him better in this one. And Manning will get that elusive second ring in what I think will be a classic for the ages.
JASON LA CANFORA | Matchup: New England Patriots vs. San Francisco 49ers
Winner, score: 49ers, 24-14
Why? The 49ers have been knocking on the door for a while and the Pats are in the AFC Championship Game seemingly every year. So I'm not going out on a ledge. Jim Harbaugh, like his brother, will use those crushing near-misses to finally get his team over the top.
San Francisco is deep, physical and motivated. Playing in the NFC West will keep them battle-tested and I'm banking on their older core staying healthy and them grabbing home-field advantage.
Likewise I like New England's schedule to allow them to secure a top spot relatively early on. If their defense can continue to make even modest gains, they have the ability to shine in a watered-down AFC.
In the end, the best defense often prevails. I like the 49ers' brute force to be the difference if these teams meet on a neutral field in Arizona come February.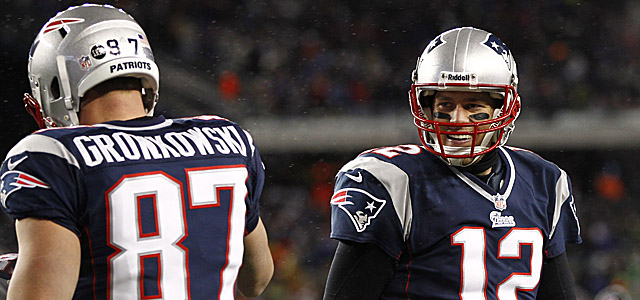 PAT KIRWAN | Matchup: Patriots vs. Packers
Winner, score: Patriots, 34-24
Why? When the dust settles, I see Peyton Manning and an improved Denver defense heading up to Foxboro to battle the Patriots in the AFC Championship Game. When I looked at both teams' schedules, the Broncos have to go into Foxboro on Nov. 2 and that will be the reason the Pats get home-field advantage throughout the playoffs and return to the Super Bowl.
In the NFC, it feels like it is coming down to the Seattle Seahawks and Packers, which ironically is the opening game this season. After watching Seattle and San Francisco this summer I like Seattle to win the division, but getting home-field advantage throughout the playoffs could be tough to achieve. The wild card in the NFC race is New Orleans. If the New Orleans Saints ever get home field throughout the playoffs, it will throw my predictions for the NFC upside down.
Once Green Bay and New England reach the big game, I think the Patriots look more ready to regain the world title.
JOHN BREECH | Matchup: Broncos vs. Saints
Winner, score: Broncos, 30-20
Why? I keep trying to think of an AFC team that might beat the Broncos and I can only think of two: The Cincinnati Bengals and the Patriots. The problem with the Bengals is that Andy Dalton is on track to go through his entire life without winning a playoff game.
The problem with the Patriots is that I don't think New England has the firepower to compete with Denver and if the two teams meet in the playoffs, it will turn out like last year's AFC title game, a 26-16 Denver win.
If anyone has the the firepower to compete with Denver, it's New Orleans. The hardest part for the Saints is going to be getting through an NFC that includes strong contenders like the Seahawks and 49ers. I like the Seahawks a lot, but there's a reason no one's repeated as Super Bowl champs over the past decade and that reason is because it's borderline impossible these days.
The Saints' most difficult non-divisional games this year (Bengals, Packers, 49ers) are all at home and I think they'll do enough to earn the No. 1 seed in the NFC. That's going to be huge, because I don't see New Orleans getting to the Super Bowl if they get into the playoffs as a wild card.
WILL BRINSON | Matchup: Pittsburgh Steelers vs. Saints
Winner, score: Saints, 31-24
Why? The Saints and the Steelers don't have the easiest paths, but they have the weapons to contend with said paths. Thanks to reinvigorated (Pittsburgh) and reestablished (New Orleans) defenses, these two teams find balance. They also find a pair of incredible young "space" rookies in Dri Archer and Brandin Cooks , who help take their explosive offensives to new heights.
New Orleans is going to emerge at the top of the heap not only in the NFC South but the NFC overall at 13-3, giving them home field throughout. Beating Drew Brees at home is hard to do and the offense runs in a different gear at the Superdome. The Steelers are a 12-win team in my book and winners of the AFC North after Ben Roethlisberger commands their no-huddle offense to MVP-worthy numbers and an upset the heavily-favored Broncos in a shootout at Mile High in the AFC Championship Game.
Despite the defenses for these two teams, offense wins the day, with New Orleans emerging victorious after Brees takes the rock one last time and marches the Saints down the field for a Jimmy Graham touchdown late in the fourth quarter.
JOSH KATZOWITZ | Matchup: Broncos vs. Saints
Winner, score: Broncos, 35-28
Why? Denver had the NFL's No. 1 offense last season -- in fact, one of the best offenses in history -- and that shouldn't change in 2014. A Peyton Manning team will be among the best-scoring clubs, no matter who's around him. But this season, by adding DeMarcus Ware and Aqib Talib , the defense will be much better, too, making this team slightly more balanced.
After the Saints flamed out in 2012 without suspended coach Sean Payton and with a horrendous Steve Spagnuolo-led defense, New Orleans hired Rob Ryan as the defensive coordinator last season. Suddenly, a team that was dead last in defense in 2012 finished No. 4 last season. Combine that with Drew Brees, Jimmy Graham and rookie receiver Brandin Cooks, and you've got a squad that makes plenty of noise.
When these two squads meet in the Super Bowl, the Broncos -- by virtue of their high-powered offense, newly-improved defense and playoff experience -- will walk out with the victory, and Manning will match his brother Eli with two Super Bowl rings and two Super Bowl MVPs.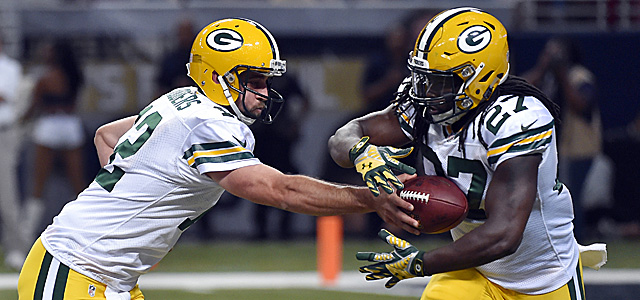 RYAN WILSON | Matchup: Patriots vs. Packers
Winner, score: Packers, 28-24
Why? Yes, we know, not particularly adventurous picks, especially since a Broncos-Seahawks, Round 2 is off the table since there's only been one consecutive-season Super Bowl rematch in history. But it's hard to dislike the Patriots because, for starters, they're consistently good (and that's understating it just a tad; New England has won at least 10 games in 12 of the past 13 seasons, and have won at least 14 games on four occasions), largely because of Tom Brady .
We're all familiar with this offense, but it's the defense that could offer the biggest improvements from recent years. With the addition of Darrelle Revis and the maturation of young players like Chandler Jones , Jamie Collins and Duron Harmon , this group could give coach Bill Belichick something he hasn't had since the the mid-2000s: a formidable unit that doesn't require Brady and the offense to score 40 points an outing.
And while that will be good enough to get the Patriots back to the Super Bowl, I'm all in on the Packers and expect Aaron Rodgers to separate himself as the NFL's best quarterback, which means big years for Jordy Nelson and Randall Cobb . And if second-year running back Eddie Lacy has another productive season, even better.
The biggest issue facing the Packers comes on defense, but if the front seven -- which now includes Julius Peppers -- can get after the passer, and the secondary plays like it did in 2012 when it ranked seventh in the league, this team will be hard to beat.
>> Want more NFL predictions? Our preseason award winners
Mark Murphy is thrilled about the prospect of painting Minneapolis green and gold

The Cousins lovefest is out of control, which is why he's Pete Prisco's most overrated player...

RG3 is finally getting an NFL tryout
It's been an unlucky day for Lucky Whitehead

We're about to find out if a rugby player can actually work in the NFL

Unfortunately for Broncos fans, this deal doesn't mean Elway will be playing quarterback