Chad Ochocinco restructures deal; will make $1 million in 2012
After a less than stellar season in which he became an afterthought, Chad Ochocinco has agreed to restructure his contract with the Patriots.
• 2 min read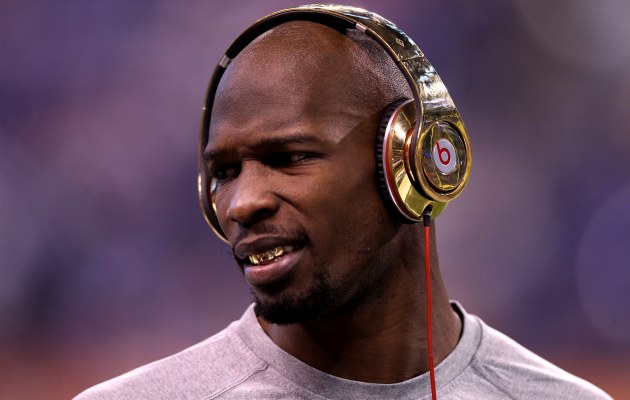 Ochocinco will make $2 million less than he was originally supposed to in 2012. (US Presswire)
When the Bengals traded
Chad Ochocinco
to the Patriots, the receiver was set
to make $6 million
for the 2011 season. With New England, though, he restructured his deal to make it a three-year, $11.5 million deal (he did, however,end up making that original amount thanks to bonuses).
And he seemed fine with taking a smaller base salary for the chance to play for the Patriots.
Now, after a less than stellar season in which he caught 15 passes with only one touchdown -- and disappeared for long stretches of the season -- Ochocinco again has restructured his deal. And again, he seems fine with making less money.
According to the
Boston Herald,
Ochocinco will make $1 million for the 2012 season instead of the $3 million he was scheduled to earn, and for a guy who had a good chance to be cut following the
Super Bowl
(or even before), Ochocinco supposedly is motivated to become a top-notch receiver instead of what he appeared to be last season -- a 33-year-old who had nothing left.
"Chad has unfinished business," his agent Drew Rosenhaus told the paper. "He has unfinished business with the Patriots. They were very generous to him last year, and he's interested in giving the team his best. He feels with a(n) offseason, with a great offseason, the lockout hurt him, it's a tough system, he'll learn the system, he'll get accustomed to it, and I think he'll do a lot better. So, he's excited. He's ready to make an impact."
Ochocinco made virtually no impact last season in New England, and he was benched for part of the playoffs. Whether it was because Ochocinco couldn't handle the intricacies of the Patriots offense or whether it was a chemistry issue with
Tom Brady
or whether it was an issue with Ochocinco's physical skills (and how much they might have declined from 2010 to 2011), Ochocinco simply couldn't make himself relevant in New England.
Making less money for 2012 won't necessarily make him a better player for next season. But it might make him more valuable financially to the Patriots if they can squeeze more productivity out of him for less cash they originally were going to pay him. And Rosenhaus says that with the extra preparation Ochocinco will have going into 2012, he can return to form.
That's assuming he'll make the team, which as
Rapid Reporter
Greg Bedard points out won't be an easy task.
"With the lockout, he missed all of the offseason program," Rosenhaus said. "We represent a lot of guys who have played in that offseason over the years … and it's a very tricky offensive system to learn. And it's very precise. Now, Chad has all offseason, he'll be in the workouts, so we're excited about it."
In truth, Ochocinco should be excited simply to have a job for the time being, because there were times last season when we wondered whether he would.
For more NFL news, rumors and analysis, follow

@EyeOnNFL

on Twitter, Like Us on Facebook, subscribe to our NFL newsletter, and while you're add it, add our 
RSS Feed
.
The Steelers didn't have to look far to find their replacement for Todd Haley

The pop superstar will seek halftime show redemption at Super Bowl LII

Our computer model simulated the AFC and NFC title games 10,000 times with surprising resu...
Todd Haley's name has also been floated as a possible replacement

It wasn't the matchup that we expected, but the Jaguars would argue that's everyone else's...

CBS All Access allows viewers to stream every NFL game on CBS in their local market