Chad Ochocinco to Roger Goodell: 'If anyone can lead us out of this mess, it will be you'
Patriots receiver Chad Ochocinco penned a letter to Roger Goodell showcasing his love and support for the commissioner.
• 2 min read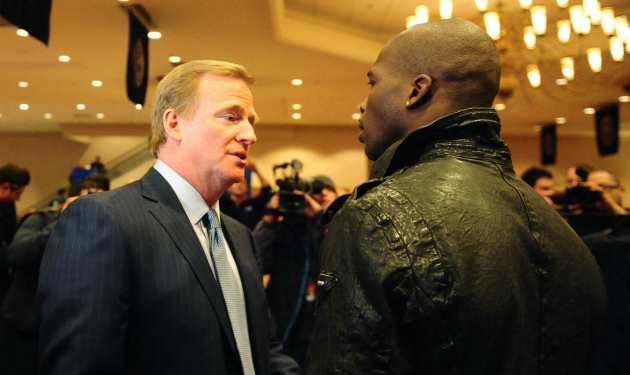 Ochocinco and Roger Goodell apparently are good buddies. (US Presswire)
On Twitter or during Super Bowl press conferences,
Patriots
receiver
Chad Ochocinco
likes to say hello to commissioner Roger Goodell. It goes back to the days when Ochocinco -- when he, you know, caught touchdown passes and then celebrated them wildly -- asked the
NFL
not to fine him again
(Goodell did anyway). And it continues into today when Ochocinco will tweet at the commissioner, calling him "Dad," and ask either for permission or for forgiveness.
Ochocinco claims that he loves Goodell, and in a letter to him posted on his
OCNN
website, he wanted to let Goodell know what was on his mind and to show his support.
The letter:
Dear Dad,

I know it has been a rough week, so I wanted to reach out. Players dying, players suing and on top of that my peers are just going off on you in the media. It does not help that ESPN has all of a sudden become Medical TV with damn near every brain expert on the planet. This has got to be the worst week ever. Since no one is showing any support, I figured I would be the first. You are in one big ass catch 22 and quite frankly, I am not sure there is any solution. One thing I think can help is killing the NFL PR machine.

Y'all do a darn near perfect job at portraying this game as one played by heroes.

But let's be real dad. This is a nasty, dirty and violent game with consequences. Sign up or go get a regular job. Watch it or turn off the TV and go fishing with your kids. It is really that simple. I know there are probably legal and financial implications that prevent this blunt depiction, but am not sure if you have a choice. If you don't say it now, the mounting evidence being revealed publicly will say it for you very soon. In all, I love you and if anyone can lead us out of this mess, it will be you. Oh by the way, I have a deal for you. Am having a rebound year and plan to do a lot of celebrating in the end zone. Can my fine money go to supporting ex-players suffering?

Sincerely,
Chad
It's tough to know how to take this letter. Is Ochocinco being funny or sincere? A jerk or strangely charming? Does he really care or is he trying to make us laugh? Not sure. But it certainly is Ochocinco-esque. And it's entertaining. And after a season of not doing that in New England last season, it's nice to see a glimpse of his old personality return.
For more NFL news, rumors and analysis, follow @EyeOnNFL on Twitter, and subscribe to our Pick-6 Podcast and NFL newsletter. You can follow Josh Katzowitz on Twitter here: @joshkatzowitz.
This might go down as the best catch of Week 15

Our computer model simulated every Week 15 NFL game 10,000 times with very surprising resu...

Ryan Shazier and the Steelers were the big winners in Pro Bowl voting that was unveiled on...
We've likely seen the last of Reggie Bush in the NFL

Fans have been sending Anthony Barr plenty of hate mail over Aaron Rodgers' injury

Here's every official injury designation for each NFL team for Week 15