Champ Bailey returns to practice Sunday but sits Monday
We're still unsure if Broncos cornerback Champ Bailey will be ready to play Sunday, but he didn't practice Monday after doing so Sunday.
• 2 min read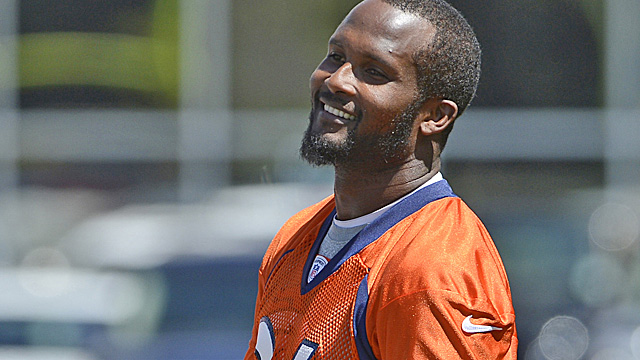 While we've discussed at length what the loss of Elvis Dumervil (stupid fax machines!) and Von Miller (a six-game suspension) means for the Denver defense, the fact that cornerback Champ Bailey hasn't been practicing has been a quiet storyline as the Broncos enter their season-opener vs. the Ravens.
Bailey sprained his foot in Denver's preseason game against the Seahawks on Aug. 17, and he hadn't practiced in a few weeks because of it.
On Sunday, Bailey returned to practice, and though coach John Fox wasn't much interested in updating Bailey's injury, defensive tackle Kevin Vickerson said, via the Denver Post, that the 35-year-old cornerback looked good. That enthusiasm, however, might have been tempered Monday by the fact Bailey didn't practice.
"It's excellent [to see him back]," Vickerson said Sunday. "Seeing him walking is knowing that he's close to getting healed, so it's all the [better] for this defense for him to come back and help."
One potential problem for Bailey if he's trying to get back in time for Week 1: the Broncos play host to the Ravens on Thursday, not Sunday. Which means, obviously, he has three less days to recover.
And then there was this Monday:


Champ Bailey again without cleats or a helmet at #Broncos practice. Looks like he'll be an observer only.

— Lindsay Jones (@bylindsayhjones) September 2, 2013


More from the Post on the scintillating exchange between reporters and Fox on Sunday regarding Bailey:
"He was at practice," Fox said.

Happy to see Bailey out there?

"Yes. It's always good to have him out there."

Did it appear Bailey was moving around well?

"I'm not talking about injuries or any of that stuff because we don't have to," Fox said.
The last time we saw Bailey was when he was getting torched by Ravens receiver Torrey Smith in Baltimore's win against Denver in last year's playoffs. But that doesn't mean Bailey isn't still a top-10 cornerback in this league (well, it's been that way for his entire career; but we still don't know how good the 2013 version of Bailey will be).
"When I looked at it, I did OK last year, but I just feel like I left a lot of plays out there," Bailey said earlier this offseason. "I think, you just have to make those plays, us as a defense and me personally. When we have the chance to turn a game with a turnover, we have to make those plays. We have to have those kinds of plays at key times. Don't leave anything on the table."
If Bailey can't play, expect Chris Harris and Quentin Jammer to get more time on the field.


Follow Josh Katzowitz on Google+
Madden season is almost here again. Here's everything you need to know.

The youngest coach in NFL history isn't coming off as someone out of his depth -- just the...

Henry is ready to take on a more substantial role in the Titans' run-heavy offense
In the past week, Marshawn Lynch and Michael Bennett have both sat during the national ant...

As expected, the internet had jokes about the Chick-fil-A at Mercedes-Benz being closed on...

Harrison is the franchise's all-time leading sacker, but J.J. Watt's brother will get the starting...