Chargers, city of San Diego haven't given up on new stadium
The Chargers and their home city will continue to try to build a new abode for their team.
• 2 min read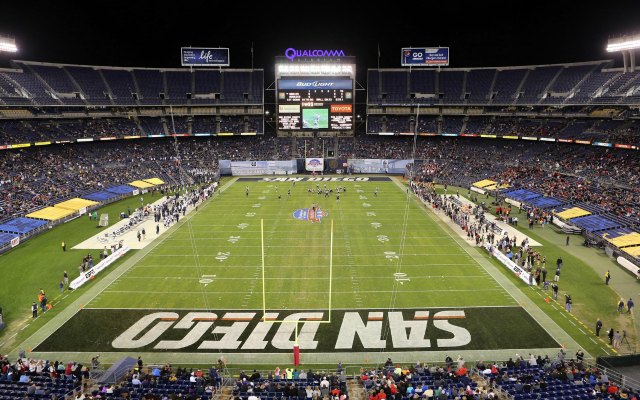 Whenever the topic of Los Angeles receiving an NFL franchise is broached, the most obvious candidates are the Chargers, the Raiders and the Rams -- all of which played their home games in L.A. at some point in history.
Last week, Raiders owner Mark Davis said his fans don't need to worry (for right now) about his team relocating to L.A. -- for the record, Rams owner Stan Kroenke recently bought 60 acres of land, which could possibly be used a stadium site -- but unless the Chargers can land a new stadium in San Diego, that franchise will be considered a favorite to move a few hours north.
That's why the city's new mayor's interest in getting a stadium deal done should be heartening to his constituents. But (and this is an interesting but) he also doesn't want to do so at the expense of the city's taxpayers.
"The Chargers are incredibly important to the city and the region," mayor Kevin Faulconer said, via ESPN.com. "I firmly believe that it's incumbent for everyone to work together. My main priority is going to be ensuring that any proposal that moves forward protects us as taxpayers here in San Diego. That will be my guiding principle. But I'm confident that we can achieve that."
Faulconer hasn't had official discussions with the team yet, but he said preliminary talks will begin soon.
For now, the Chargers play in Qualcomm Stadium, which was built in 1967, but the team has proposed a new football-only stadium that could cost as much as $900 million. A new stadium also would be important to get back into the Super Bowl rotation (the last time the NFL title game was played in San Diego was in 2003).
As ESPN explains, "funding for the stadium would include contributions from the Spanos family and the NFL, along with selling and developing 166 acres of city-owned property that Qualcomm Stadium sits on, and another 100 acres of city-owned property that houses the San Diego Sports Arena, for the city's contribution. Selling off the parcels of land could generate the city's financial contribution to the project without raising taxes, along with creating new tax revenue from the development of the land."
The Chargers also said the city would not be responsible for the stadium's annual maintenance costs.
"We're certainly going to be beginning the dialogue soon," Faulconer said. "Ultimately, it's one that I'm convinced that has to involve the greater San Diego community. And I look forward to playing a role in that.
"When you look at the success that Petco Park has had in the community, the opportunity for a new stadium has to be an entire package that makes sense for San Diego. That's my job as mayor."
The former Buccaneers kicker did not have things start well for him in Chicago

Bears special teams showed up in a big way against Arizona

Beast Mode got loose with Oakland and looked pretty impressive in the early going
Beast Mode was one of several players to sit during the Raiders-Rams game

The cleaning staff in Houston missed a couple of things while cleaning up after Super Bowl...

Marvin Jones had some serious fun in the end zone after scoring against the Jets