Chargers coach Mike McCoy starts first camp with fan-friendly mantra
Chargers coach Mike McCoy takes over his first training camp and makes it clear that his regime is going to provide a family atmosphere.
• 1 min read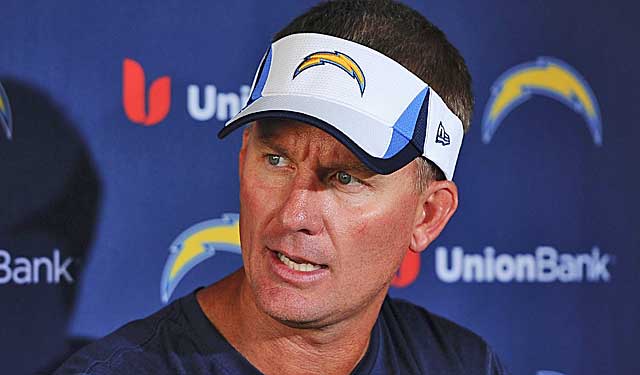 SAN DIEGO -- Mike McCoy was presiding over his very first training camp as an NFL head coach today, with the San Diego Chargers taking the field for the first time, and he did so with a decidedly fan-friendly, and family-friendly vibe.
The Chargers have moved camp to their training facility, which comes with limitations in terms of space available for fans to watch, parking, and infrastructure to accommodate large crowds. However, McCoy spent considerable time trying to adjust the layout, from everything to new practice fields to revamping the stands and watching areas to changing the media area and putting up bigger and more centrally located tents for players' families, getting them closer to the field.
After practice McCoy spent considerable time interacting with fans, seeking them out, spending time mingling with players' wives and children who were scattered around the playing fields. He emphasized getting the families closer to the team and it was refreshing to see the genuine interaction between the sides, versus the way some old-guard coaches would operate.
McCoy in his opening comments after practice emphasized reconnecting with fans, energizing this fanbase (with blackouts becoming a reality here in recent years) and he repeatedly thanks the fans for their intensity during today's first practice.
"This is what we're looking for," McCoy said. "This is the environment we hope to have for every [camp] practice."
McCoy and new general manager Tom Telesco are both in their first years in these positions and, with former general AJ Smith having his share of battles with the media and these fans as the team has sputtered in recent years, their approach to those aspects of the job should serve them well.
Tickets are dirt cheap and very much still available for the TNF matchup

The Lions are being recognized after beating two popular preseason picks to make the playo...

Hernandez was 27 when he committed suicide in April 2017
Mowins is set to become the first female play-by-play announcer in NFL on CBS hisory

The Rams have struggled against the 49ers but that was during the Jeff Fisher era

The Cowboys' running back owns his mistake, says it was 'just bad effort'