Chargers may be bolting to LA, but Philip Rivers isn't going anywhere
Will the Chargers bolt to LA? It's the unavoidable question hanging over camp, but Philip Rivers and Co. are just trying to focus on winning games.
• 13 min read
SAN DIEGO -- While San Diego Chargers players ate lunch and lifted weights following another training camp practice Tuesday afternoon, generally oblivious to the outside world around them, Carmen Policy, the point-person for the franchise's plan to relocate to Los Angeles, was addressing the media at special NFL owner's meeting in Chicago.
"Let me say this," Policy intoned. "The Raiders and Chargers are committed to LA."
To the denizens of this general area, the words reverberated like a shot across the bow. They lit up the talk radio airwaves in Southern California, and dominated the discussion here.
But in real-time, even general manager Tom Telesco and head coach Mike McCoy were immune, totally unaware. And that's probably for the best.
This could wind up being a massive season of transition for the Chargers, but whatever happens, it will be entirely out of the hands of the players, the coaches, and even most reaches of upper management. It will come down to the NFL's owners and Commissioner Roger Goodell and the league office.
While the issue is a topic of constant conversation in the coffee shops and restaurants and businesses around this community -- it's virtually inescapable in San Diego now -- it's something this football team simply can't obsess about. In fact, it's probably best if they just pretend nothing is going on.
This is going to be an awkward year for this franchise. There is just no way around it.
With a potential move up the 405 Highway cascading over everything related to the team, and with the expiring contracts of two premier players -- quarterback Philip Rivers and safety Eric Weddle -- lingering, the start of actual football games will be a welcome relief to this front office. 
By the next NFL owner's meeting in October, the fate of the Chargers, and Raiders and Rams, could start to crystallize, and no one here is naïve enough to think it might not morph into a bizarre distraction. In the meantime they'll do their best to control what they can and try to maintain a winning mindset.
"We told the players the same thing as the staff members," Telesco said. "It's cliché-ish, but we can only control what we can control. We control the product on the football field, and that's it. And we've been upfront with everybody. We're letting the stadium people work on the stadium. We'll let the football people work on the football. Let the marketing people work on the marketing. Everyone just does their own job.
"I think part of being, especially being a professional player, and even us as what we do, we're kind of focused, blinder's type people anyway. Especially players. They're pretty good at blocking things out. And the staff has to do the same thing. In this business -- because there is so much going on and there's so much to do and it's so competitive -- it really isn't that hard to block it out. I can't control it, I know that. But we know staff member's wives, sure, yeah, this affects families and everything. But this is professional football and our No. 1 job is to win. And we can't win unless we all do our job. We're not paid to compete to play; we're paid to win. So it's not too hard to get people focused in. But we're not naïve. We know what's going on."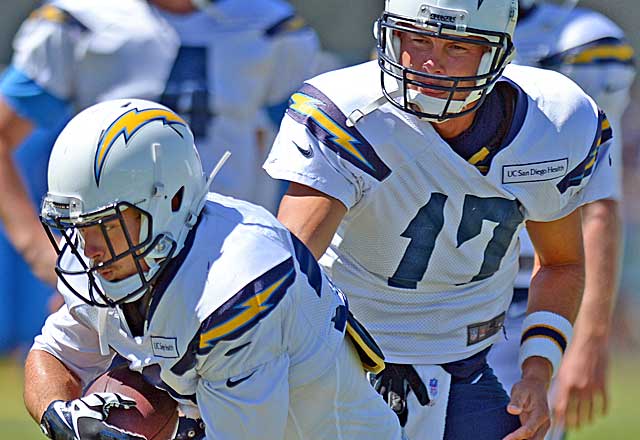 McCoy held a team meeting at the start of offseason work to address the elephant in the room and provide some perspective on the uncertainty this team would face in 2015. He did so again at the initial team meeting before training camp began. And that'll be it.
Truly, there isn't much more to be said about it from a football purview. With a slow start and a ramped-up news cycle about franchise relocation, could it become a problem? Sure. But what the team does know for now is that ticket sales are actually up (whether that's locals preparing for a swan song, or otherwise), the attendance at training camp has been up as well, and they aren't making any excuses for not having a quality season. 
"It's the same thing we told the entire team the first team meeting of the offseason," McCoy said. "As coaches and players we have jobs to do. Our job is to win football games and go out and produce and put a good product on the field to excite our fans and make this a great year at our stadium. Other people make those other decisions, but we are paid to win games and to do our jobs."
That will become more complicated as the season unfolds, with a final decision on the NFL's preferred Los Angeles stadium locale likely by January at the latest and a bevy of stories and reports on the subject likely forthcoming on a weekly basis through the season.
The race to LA may be the primary backdrop to this Super Bowl 50 season and the Chargers are caught right up in it. And, frankly, they face higher expectations than their LA-limbo brethren in St. Louis and Oakland. As much as they try not to think about it, there will be a litany of questions from wives and children and neighbors.
For Rivers, one of the faces of the franchise here since taking over as the starting quarterback in 2006, things are even more complicated. He is in the final year of his deal and while talks on a long-term extension have been fruitful (more on that in a minute) there is no certainty that it will be resolved by the start of the season.
Trade rumors were rampant leading up to the draft -- ultimately I don't see a scenario where Rivers leaves the franchise -- and while that has settled down, Rivers will be uniquely challenged to compartmentalize this future, something he's already pretty equipped at doing.
"In the offseason, in the time off, those things, naturally -- we're human right? -- naturally you think about that," Rivers said. "Gosh, LA, and you hear some of the different news, but you don't know what's true and what's not. The contract, you think, sure, you think about it. But then once you get to training camp it's really like, 'Alright, what I've been saying for the last six months is that I'm excited to be the quarterback for the 2015 Chargers. So that's why I'm here. That's what I get to do.' We're not going to be in LA this year, and contract or not, I know I have one for this year, and let's just go play. That's really all it is. Let's go play and let that other stuff take care of itself."
Observations from Chargers camp:
Rivers is sticking around: Here's what I can tell you about the contract situation with Rivers -- the sides have been working on it for months, they have made significant progress, the Chargers want to make a sizeable commitment to Rivers and there remains an issue or two holding it up. Maybe it gets done before the season starts, and maybe it doesn't.
If it doesn't, this team is fully prepared to franchise Rivers in 2016, and 2017 if need be, and Rivers has given no indications he wants to retire. Not to mention, he's as straight a shooter as there is. Also, after talking to some people who know him well, I'm not buying that a move to LA would preclude him from signing, either.
You don't get this far down the road if you don't intend to play, and play for the Chargers whether here or 120 miles up the road. Telesco, to his credit, refuses to discuss the situation but from everything I've heard this has the potential to get done if not in the next few weeks, then directly after the season.
Rivers will join the $20-plus-million-a-year club, and if you spend any time around McCoy, you get a sense of just what he means to this franchise moving forward.
"From Day 1 we gave him the freedom to change to whatever he wanted to whenever he wanted to," said McCoy, entering his third season with Rivers, "and the more he's played in it, the better he's been, but he's been very comfortable from the opener. Even in the first year we had in a number of games whether it was a run change or a pass audible or a zero-blitz beater in the red zone -- and he just prepares like the best of them. There's no stone unturned. He has great ideas. What he sees in the game is unbelievable. It's amazing. We're very fortunate to have him as our quarterback and it gives myself and (coordinator) Frank (Reich) and (former coordinator) Ken Whisenhunt that first year a lot of flexibility to change from week to week. And so many times during a game it's like, 'What did you see? Why did you do that?' And he saw something and it's like, 'Wow, how did he do that?'"
Yeah, Rivers ain't going nowhere.
What's next for Weddle? Now Weddle is a different story. Those talks have gone nowhere and there isn't much hope of an extension. With safety salaries getting bonkers the last few years, and a guy like Kam Chancellor holding out in Seattle, this very well could be Weddle's last year in San Diego. At this point I'd put the odds on that. He's been a vital part of the team and the community and lived up to his last mega-contract, but it could well be that he's moving on whether this team is in Los Angeles or San Diego.
Stevie starts fast: People around here are thinking Stevie Johnson could do big things in this offense. The ex-Bills and Niners wideout is already simpatico with Rivers. And with Antonio Gates suspended for the first four weeks, Johnson will be an integral moving part who could line up in the slot, out wide, wherever.  
  "His track record speaks for itself," Rivers said. "He had three 1,000 yard seasons in Buffalo, and those don't just happen by accident. So already, knowing that, I was excited. But you're always also a little bit apprehensive, because you don't know how quickly it's going to come together, and sometimes it takes more time."
Rivers said, however, that him and Johnson have connected quickly. "Even in OTAs and especially in the first 10 days of camp we've had a lot of things come that are trust-building plays and things that happen where he made a great catch and I threw it in a spot where it's got to be you or nobody, or something where we both felt it in the red zone and felt a void and knew I would do that," Rivers said. "Those kinds of things give you confidence, and he's been really good."
Johnson has earned high marks from McCoy and Telesco also thus far, and looks like he might be a big part of the offense.
Gordon picking things up: Pay special attention to running back Melvin Gordon, the Chargers' top pick in the 2014 draft, in the preseason. Particularly on passing downs.
He's come on the last few days, but coming from Wisconsin, where the offense was decidedly ground and pound, he has some big adjustments to make. Especially when it comes to keeping defenders from clobbering Rivers on the pass rush.
Gordon's hands are better than you might expect from such a run-heavy college offense -- and the Chargers throw the ball to backs about as much as anyone in the league. But the pass protection remains a work in progress. And while Rivers probably won't play all that much in the preseason, he admits he'll be watching closely from the sidelines.
"He's still having to adjust to protections and to the route running," Rivers said, "but the good thing is he catches it well, catches it naturally. And protections, shoot, it's like not that I've had to sell it to him, but I said, hey, you pick up the right guy on third down and pick up the protection, and there's two reasons you've got to love that. One, is it helps us win. And another is you get another carry. Now it's first down, and you get another carry. We don't get it, and we punt, and you look up and we start getting behind, you're going to be standing over there watching us in two-minute stuff."
All of which is true of course, but thirdly, you get a franchise QB killed and you're going to be benched, anyway.
"We tell the receivers and the backs," McCoy added, "If he sees something, he's going to check to it. [New offensive linemen] Joe Barksdale and Orlando [Franklin] and Stevie, guys who have played a lot early on in camp with Philip, it's them getting up to speed and mastering the system of how fast he's going to play. With Melvin in the backfield it's, 'Hey, he's going to tell you one quick thing as the ball is being snapped and you'd better be listening. It can change in a hurry.'"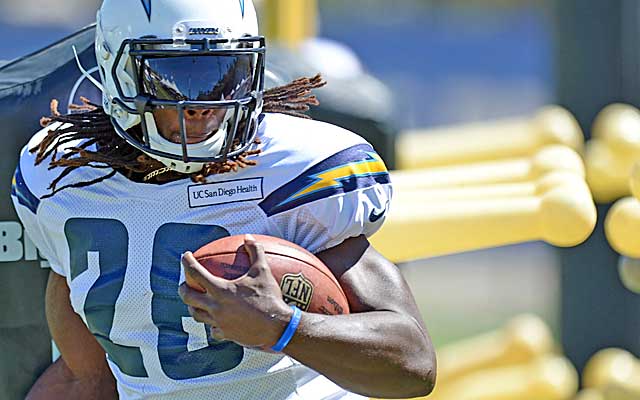 Building a winner: One of the most overlooked aspects of this team moving forward is the job Telesco and McCoy have done. They turned it around quick in Year 1 to advance beyond the wild-card round and nearly made the playoffs a year ago before injuries compromised their depth.
I would not be surprised in the least if both received a contract extension in the next six months or so, if not sooner. The Spanos family has prized continuity and there is a great working relationship between the coaching staff and football operations that was sorely lacking under the prior regime.
Receivers get a break: McCoy gave receivers Keenan Allen and Johnson the day off Tuesday ahead of the preseason opener on Thursday after giving receivers Malcom Floyd and Jacoby Jones the day off on Friday. For as much as camp rigors are curtailed in this CBA, many teams are still judicious about the workload for certain players.
Goldberg comes to camp: Former wrestling great Goldberg, who had a brief NFL career as a defensive tackle with the Falcons after starring at Georgia, was at Tuesday's practice and he drew quite a crowd. No shortage of Chargers players and coaches wanted their picture taken with him, and he spent a lot of time with top defensive lineman Corey Liuget, in particular. He was picking up PR interns in the fireman's carry, chatting up everyone, signing autographs and taking pictures of his son pounding on some blocking dummies with Chargers players.
Family-friendly: Maybe it's just my timing for visits for camp here, but there is always a major family vibe at camp since McCoy took over. And I know it was a big initiative and have talked to enough people here to know it's not just a coincidence about when I arrive. He has stressed it, and there are always a bunch of player's wives and kids on the field after practice. McCoy is always chatting them up and it's definitely the norm here more than the exception. It certainly can't hurt in a game where players sometimes feel more like cogs than people.
Extra points
• Corner Jason Verrett, the Chargers top pick in 2014, has had a nice start to camp by all accounts. Just don't ask anyone here about his health. He's 100 percent now, but must prove he's not brittle after battling injuries in the past.
• Linebacker Donald Butler continues to impress. He's been great in coverage and looks like he's found his niche here. He picked off Rivers on Tuesday reacting to a sputtering pass in what Telesco believes was the first interception of the starting quarterback so far in camp. "Donald has looked good, he's looked really good," Telesco said. "He came back in great shape with a great mindset and we're looking for big things from him this year."
     • Look for former top pick D.J. Fluker, drafted to be a tackle, to remain at guard for a while. He's looked pretty good at right guard lately and I wouldn't be surprised at all to see him remain there through the preseason games as long as things progress well.
Pick Six Newsletter
Get the day's big stories + fun stuff you love like mock drafts, picks and power rankings.
Please check the opt-in box to acknowledge that you would like to subscribe.
Thanks for signing up!
Keep an eye on your inbox for the latest sports news.
Sorry!
There was an error processing your subscription.
Tom Brady is breaking news on Instagram

The president has an idea for the NFL

The Dolphins have no plans to suspend any of their protesting players
Fowler was arrested in 2017 on misdemeanor charges

Andrew Luck is finally expected to return to the field

Tom Brady just can't beat Nick Foles