Chargers team doctor, David Chao, no longer with team
David Chao, the Chargers' team doctor, recently resigned. It's reportedly because he no longer has surgical privileges at two hospitals.
• 2 min read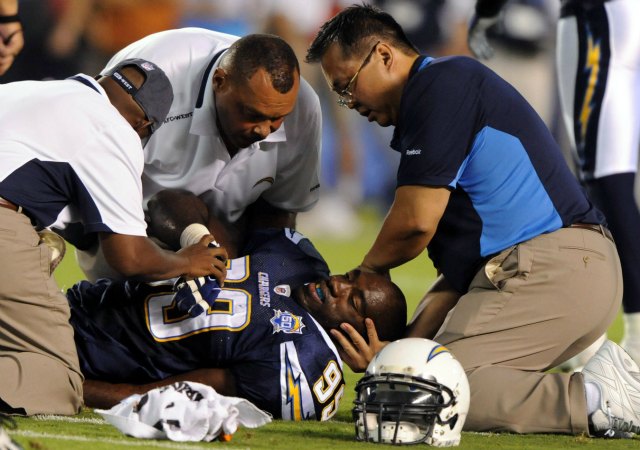 Last week, Chargers team doctor, David Chao -- whom the NFLPA urged to have removed this year because of malpractice and medical license problems -- quit his job reportedly to spend more time with his family and because of his back problems.
But USA Today reported another reason for Chao's resignation. Namely, because he's no longer allowed to perform surgery at the two San Diego hospitals where he had held surgical privileges.
"I have been informed that Dr. Chao has lost his surgical privileges with the only two hospitals he had surgical privileges with: Scripps Mercy [Hospital] and Scripps [Memorial Hospital]," attorney Marc Stern wrote in a court declaration in relation to a lawsuit against Chao, via USA Today. "This has led, apparently, to Dr. Chao resigning his position with the Chargers. This will also inevitably lead to the closure of … Dr. Chao's surgical practice."
More from the paper: "In recent years, officials at Scripps Memorial Hospital and Scripps Mercy Hospital in San Diego conducted reviews of Chao's quality of care and alcohol consumption, according to hospital letters obtained by USA Today Sports. Several former patients of Chao's also had accused him of maiming them during surgeries or negligence, including one case that led Scripps Memorial Hospital to settle a case for $1.39 million."
On Thursday, Chao confirmed to UT San Diego that he agreed to let his privileges lapse. In exchange, the hospital administration would not pursue an investigation into whether he didn't comply with "several hospital bylaws."
Chao told the paper that he still has privileges at both hospitals but that he performs his operations at another surgery center. Chao also said he grew fatigued of expensive judicial fighting.
"I was tired of spending tens of thousands of dollars fighting at a place that I don't really use," Chao told UT San Diego in an email.
Problems have followed Chao, though he still managed to maintain his job with the Chargers. He has been found liable of malpractice, and he was publicly reprimanded by California's medical board. He has also been investigated for violating controlled-substance regulations.
"The players of the National Football League deserve to have a doctor that's not been found liable of malpractice. And that's within the last year, by the way," NFLPA executive director DeMaurice Smith said in January.
Here's what Chao said in a statement when the Chargers released the news: "I talked to the Chargers about my back problems in March and my desire to spend more time with my newborn twins and young daughter."
Whatever the reason, it's clear that Chao is done treating Chargers players. And it sounds like the players' union likely is satisfied by that.
An example of how not to use social media

Mike McClure, a DFS pro with more than $1M in winnings, gives optimal DraftKings and FanDuel...

Let's check in on the Giants a day after their loss to the Lions
Mike McClure has made over $1 million playing DFS and gives his best daily fantasy football...

The veteran linebacker is the franchise's all-time leader in sacks

It's unclear when Timmons, a free-agent signing in the offseason, will make his Dolphins d...