Chargers WR Keenan Allen high-hurdles into end zone
Chargers wide receiver Keenan Allen jumped over a Broncos defender and than ran over another one on the way to a 19-yard touchdown on Thursday.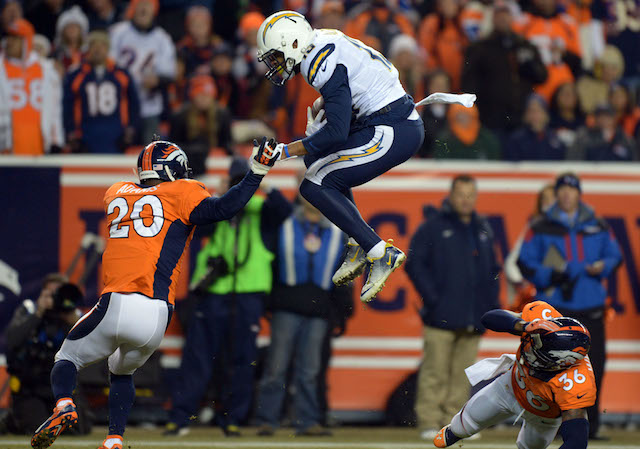 Chargers wide receiver Keenan Allen just moved one high-hurdle touchdown closer to taking home the offensive rookie of the year award. 
In the second quarter against Denver, Allen took a short pass from Chargers quarterback Philip Rivers and turned it into a 19-yard touchdown. Only Allen didn't have a clear path to the end zone, he had a few obstacles in his way that the had to jump over. 
As you can see below, Allen jumped over Broncos defender Kayvon Webster and then ran through Denver safety Mike Adams to get the score. 
(Wink of the CBS Eye to gifdsports and Buzzfeed Sports)
Welcome to the NFL's version of a dress rehearsal

It sure sounds like the players are planning for a work stoppage when the latest CBA expir...

One of the league's best players is still looking for a new long-term contract
'It's completely different,' Wentz says about entering his second season with the Eagles

Tavon Austin, Matt Kalil and Joe Flacco headline our list of the NFL's most player-friendly...

Richardson has played for four NFL teams, and hasn't appeared in an NFL game since 2014