Chargers WR Keenan Allen: I almost quit the team after Week 1
After a rough training camp and a season opener where he didn't play a single offensive snap, Chargers wide receiver Keenan Allen almost quit the team.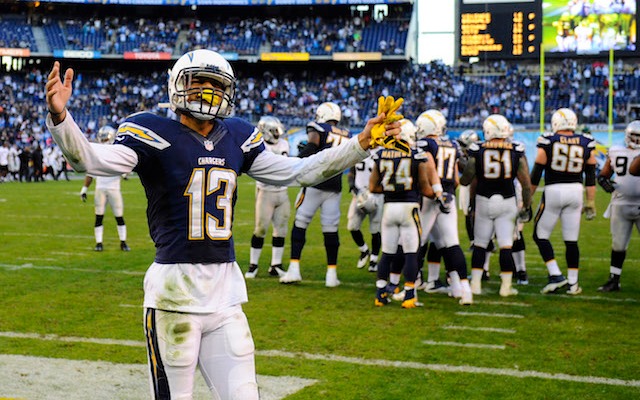 Chargers wide receiver Keenan Allen leads all NFL rookies in receiving yards (957), receiving touchdowns (8) and receptions (66), but those numbers were almost zero, zero and zero this season because Allen almost quit the team. 
After a rough training camp, the third-round pick thought about quitting football to pursue one of his other passions: music.
"Training camp was very hard for me. I wanted out, to be honest with you," Allen told Chargers reported Annie Heilbrunn in a recent interview. "I was down on myself. I actually called my mom and told her I didn't want to play anymore because I wanted to do music."
Things didn't get much better for Allen after training camp ended either. In the Chargers regular season opener against Houston, the rookie wide receiver didn't play one offensive snap. 
"After I didn't play after that first game, I was about another snap away of not playing from quitting," Allen said, via U-T San Diego.
Allen didn't have to quit though because he finally got on the field during the Chargers Week 2 game against Philadelphia. In the 33-30 win, Allen caught two passes for 34 yards and he's been steadily improving since. During a four-game span that started in Week 5, Allen tallied over 100-receiving yards four times, including an eight-catch, 128-yard game against the Redskins in Week 9.
It's a good thing for everyone involved that Allen didn't quit the team. The third-round pick is a front-runner for the NFL's offensive rookie of the year award. Allen could also put himself in the Chargers record-book with a strong game against Kansas City on Sunday. With 45 yards, Allen would break the franchise-rookie record for most receiving yards, a record that's stood since 1978. 
On Sunday, the Patriots' coach will go up against the coach he recommended almost exactly a...

Here's a look at the NFL's entire postseason schedule for 2018

It's been "Brady vs. everyone" all year, so it makes sense to vote for the constant
The commissioner already went to Foxboro twice this year but IT'S NOT ENOUGH

Galin Dragiev is on a piping hot run in NFL picks and just locked in a play for the AFC title...

Minnesota's fans were so impressed with the Saints punter that they are giving to his char...