Charles Barkley: Johnny Manziel too immature to handle fame right now
Charles Barkley has some advice for Johnny Football: Stop taking selfies.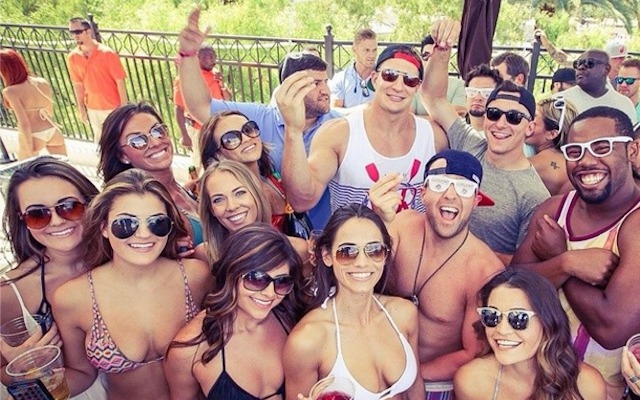 Johnny Manziel needs to start avoiding cameras, including the one on the back of his own cell phone. At least's that the advice from Charles Barkley.
The former NBA player said on Wednesday that Manziel is too immature to handle fame and that the Browns quarterback needs to stop it with the selfies. 
"You should never take selfies of yourself doing anything that can be considered stupid," Barkley told the Bull and Fox Show on WKRK-FM in Cleveland. "And that's probably the only problem I have with Johnny Manziel. Most of his pictures are selfies, and that tells me he's just too immature to handle this fame thing right now."
Barkley also echoed comments made at the NFL rookie symposium by Cris Carter. At that event, Carter let the rookies know that 'Everybody is TMZ.' Barkley said he doesn't let friends take pictures of him and Manziel should do the same. 
"I think he has to be careful. Johnny has to understand, everybody has a cell phone," Barkley said. "You have to be careful when you're out in public. The only problem I have with Johnny Manziel is him and his friends are always taking pictures… Somebody might get [a picture of me], but it won't be one of my friends. I don't allow my friends to take pictures when they're with me."
If you've lost track of what Manziel's offseason has been like, here's a brief reminder: Johnny Football went to Las Vegas over Memorial Day weekend, then was back there for the Fourth of July. That Fourth of July vacation also included a stop in Austin, Texas, where he was caught in a precarious position in a bar bathroom. 
Manziel has also been photographed riding an inflatable swan, hanging out with Justin Bieber and taking a selfie with RG3. He's also in a picture with Bieber's ex-girlfriend in Houston and of course there's the video of Manziel using a wad of cash as a cell phone. 
What does all of this mean? For Barkley, it means Manziel needs to avoid pretty much everyone. "[Manziel's] got to watch himself because everybody is out to get you," Barkley said. "Every nitwit has a cellphone."
Or instead of avoiding people, Manziel can go to a Red Sox game with a bunch of girls like he did on Wednesday. They all look happy. 
Johnny Manziel at Fenway. Looks like he brought a girl for each inning: pic.twitter.com/5PdNbKA4HP

— John Breech (@johnbreech) July 10, 2014
Mike McClure has made over $1 million playing DFS and gives his best daily fantasy football...

Donald Trump would like to see NFL owners cut any players who kneel for the national anthe...

One of the biggest penalties in Thursday's game was a controversial flag that went against...
If Ezekiel Elliott gets suspended, it likely won't come until Week 5 at the earliest

The NFL is apparently concerned that the Chargers might not be viable in Los Angeles

Everything you need to know for Week 3 of the 2017 NFL season is here