Charles Woodson on Raiders defense: We peed down our legs
The Jets scored a season-high 37 points on Sunday and Raiders safety Charles Woodson has an explanation for why that happened, 'We basically peed down our legs.'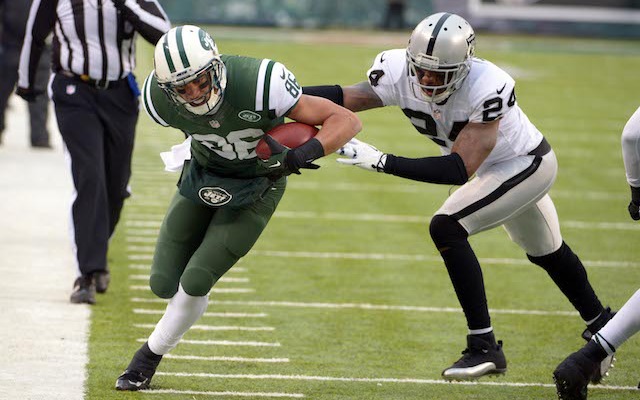 Before Sunday, Jets quarterback Geno Smith hadn't thrown a touchdown pass since an October win over New England, a game that also marked the last time Smith threw for over 200 yards. Both of those droughts ended against Oakland, something that doesn't sit well with Raiders safety Charles Woodson.
After the game, the 37-year-old Woodson called the 37-27 setback the most embarassing loss he's ever been involved in. Woodson also compared his team to the Bad News Bears and said the Raiders defense peed down its leg. 
"I don't want to sit here and make excuses about anything. We've played well at times and we haven't played well and [the Jets game] is as bad as we've played this whole season," Woodson said, via the Bay Area News Group. "It's really embarrassing to be a part of it. We were like the Bad News Bears out there."
Woodson was quick to clarify that the Raiders defense played like the Bad News Bears, not the offense. Behind Matt McGloin's two touchdown passes, the Raiders put up 27 points, their second highest scoring total of the season, "I do want to give credit to our offense," Woodson said. "They just kept fighting and really gave us a chance to still be in the game. Defensively we went out there and basically peed down our legs."
The Jets 37 points against the Raiders was New York's highest scoring of the season and it was surprisingly high number for an offense that had only produced 20 total points in its last three games combined. 
Things might be going bad for the Raiders, who are on a three-game losing streak, but Woodson might be happy to know that Oakland hasn't been eliminated from playoff contention yet. 
The longtime Bengals coach and the team are planning to part ways after the season ends

Everything you need to know heading into Week 15 is right here

Haden has been out since Week 10 with a fractured fibula
There's also the possibility Goodell steps aside early if his potential successor is progressing...

The league could return to its pre-2009 policy after a year in which pregame protests took...

Arians hasn't said he's retiring, but the team has discussed contingencies for a coaching...