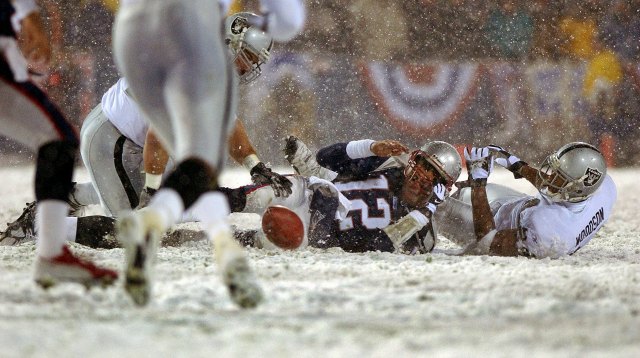 The Tuck Rule game -- involving Tom Brady and the Raiders and the question about whether Brady fumbled and why the officials overruled it -- occurred 12 years ago. But Charles Woodson -- who was the one who sacked Brady and caused what nearly everybody thought was a fumble that probably would have given Oakland the win -- has not forgotten.
And he apparently believes the Patriots quarterback owes much of his success to Woodson.
"Let's just get this out of the way," Woodson said Sunday on the NFL Network. "If they make the correct call -- which they did at first, then they overturned it -- this (10)-game playoff streak that Tom Brady has? It never happened. Tom Brady owes me his house. I'm the reason why he's married to who he's married to. I'm a reason for a lot of that. Everything. Because they overturned that call."
"Tom. C'mon now. 'Fess up. It was a fumble. It's still a fumble."
A couple things.
1) It's unclear whether Woodson was kidding Sunday, but he did have smile on his face for part of the diatribe. But after the game, Woodson appeared livid. "It's some bullshit, it's some bullshit," he said at the time. "That's exactly how I feel, I feel like it was a bullshit call. It never should have been overturned."
Last August, Woodson had this to say to the San Jose Mercury News: "None of us on that team I don't think will ever get over it. If you lose a game, you lose a game. You've got to deal with it. But when you feel like a game was stolen, that hurts because it's a missed opportunity and a chance to move on in those playoffs. It probably burns for everybody on that team."
2) Game referee Walt Coleman DID make the correct call after watching the fumble/incomplete pass on replay, though he did a poor job explaining it. That was the NFL rule at the time, though, thankfully, that rule has since been stricken from the books. So, if Woodson wants to blame anybody, he should blame the NFL owners for allowing such a rule to exist in the first place.
3) If you want to relive the memories from the perspective of the Raiders radio crew, here you go:
Note the anger in the radio booth when Coleman reverses the fumble.
4) While Coleman is reviewing the play on the above YouTube video, make sure to note that the sound system is playing Phil Collins' "In the Air Tonight." I don't know what that means, but it seems significant anyway.
Follow Josh Katzowitz on Google+