Charlie Whitehurst admits to faking arm-wrestling bet with punter
Oh, Charlie Whitehurst, you cad. You fooled us all.
• 1 min read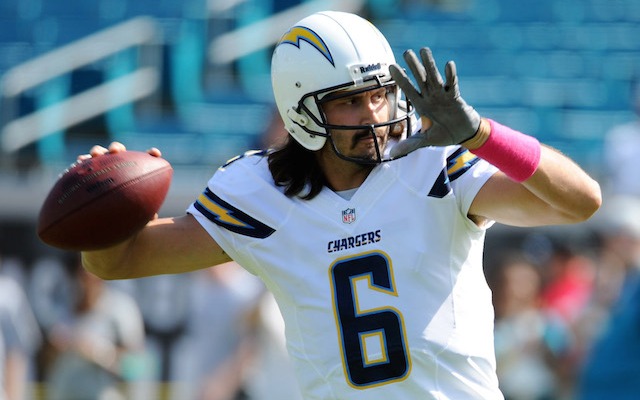 More NFL offseason: League minicamp dates | Latest news, notes
Sounds like Charlie Whitehurst has made a fool of us.
A week ago, we wrote about the Instagram photo the Titans backup quarterback posted, which stated that he lost the No. 6 jersey he had worn in Seattle and San Diego to Tennessee punter Brett Kern and, thus, would have to wear No. 12 in 2014.
See?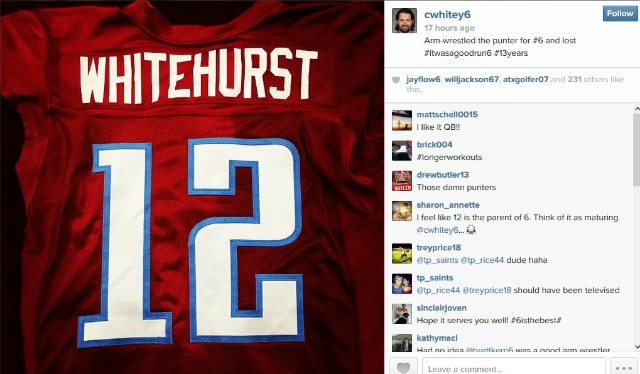 All of that was a hoax, Whitehurst says now. The arm-wrestling event never happened.
"It all happened so fast," Whitehurst said, via the Tennessean. "I don't remember what motivated me to do it, but I think it was kind of like, `Hey, this looks pretty good.' It was a 30-second thought. I didn't think anybody took me that serious."
But we did, and now, we know we've been had by that cad, Whitehurst. Our first clue should have been this: a player who relies on his arm for his job probably wouldn't risk having either of his arms wrenched in a jersey competition.
"That was kind of my first real experience with that whole … Twitter stuff," said Whitehurst. "Some of the guys later were telling me, `Hey, they're killing you on there.' I wasn't really paying much attention to it. But that's the first time I realized how modern media can happen."
So, nice job to Whitehurst, who fooled a whole bunch of us with his social media savvy (though it did give CBSSports.com's John Breech an opportunity to kill it with this piece about players who jersey-switch).
But Whitehurst now should focus on his next trick: figuring out a way to get some playing time this season.
Lucky Whitehead says he had an awkward face-to-face meeting with Jason Garrett

The Eagles said goodbye to several players on Wednesday

The Falcons' retractable roof is causing some serious construction headaches
The Panthers quarterback apparently wanted McCaffrey at No. 8 instead of Fournette

New England is favored in every game this year, but Belichick is apparently unaware

Poe had to weigh in at less than 330 pounds to get his bonus