Cheerleader suing Buccaneers for paying less than minimum wage
The Buccaneers are the fifth NFL team to be sued by a former cheerleader or cheerleaders.
• 1 min read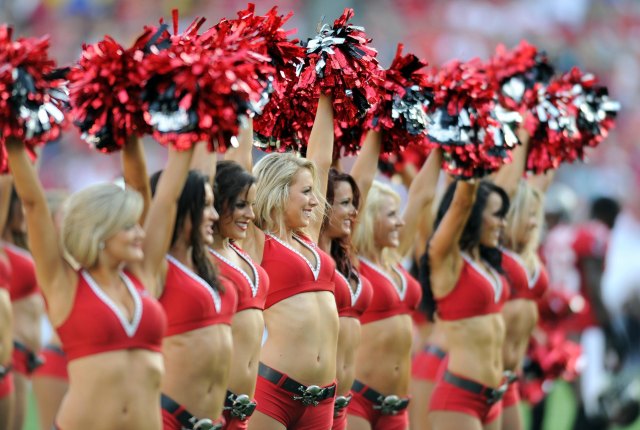 More Draft coverage: 2015 Mock Drafts | 2015 Top 100 | 2014 Draft Grades | News
Earlier this month, the Buccaneers introduced their 2014 cheerleading squad after more than 100 women tried out for the team.
But just like the Raiders, the Bengals, the Bills and the Jets, the Buccaneers are being sued by a former cheerleader who says the team pays less than minimum wage.
Former cheerleader Manouchcar Pierre-Val, according to the Tampa Tribune , filed her lawsuit Monday because the organization paid her less than $2 an hour, violating federal and state wages laws.
According to Pierre-Val's attorney, Kimberly Woods, the lawsuit seeks to be a class-action suit, and Woods told the paper that other women are interested in joining the suit.
Buccaneers spokesman Luis Nelson declined comment for the most part but did say, "As a general rule, we don't discuss compensation practices for any members of our organization."
According to Woods, the cheerleaders make $100 a game, but they aren't compensated for their cheerleading practices. The cheerleaders also are required to attend 40 hours of public appearances each year. For corporate-sponsored events, Woods said the cheerleaders earn between $25-$50 per hour, but they make no money for any other appearances.
Interestingly, Pierre-Val is featured on the Buccaneers website in a video in which she says she loves being a Buccaneers cheerleader.
The Browns rookie quarterback is expected to see some first half playing time against the...

The Seahawks are trying to beef up their offensive line with George Fant out

Tom Brady had an interesting Sunday
Cutler's teammates rave about his arm and football IQ but can he keep playoff hopes afloat...

Odell Beckham broke all the rules for watching the solar eclipse on Monday

For the second straight year Siemian has won the starting job in Denver