Chiefs first-round pick Poe looking for more than he's likely to get
Rookie contracts easy? For most, yes. But Pat Kirwan says the Chiefs and first-round pick Dontari Poe face unique circumstances. Between his No. 11 draft position and an unusual salary gap around him, Poe is in a tough position.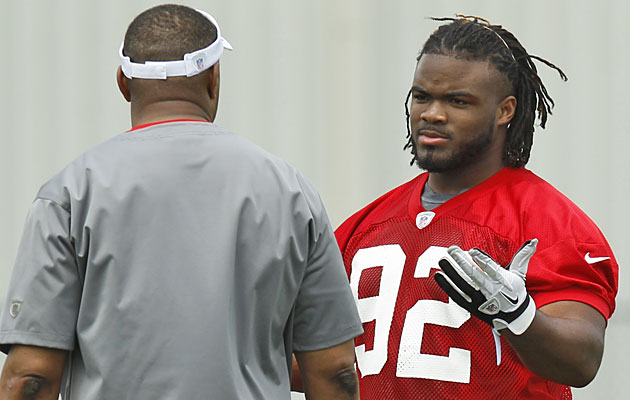 As the No. 11 pick, Dontari Poe will have less earning power when it comes time for a fifth year. (Getty Images)
As many expected, rookie contracts have been very easy to get done with the new CBA. There just isn't much wiggle room to get more money in deals. The days of escalators, voidables and gigantic guarantees are gone.
But there are still a few first-round contracts to be done and I find the Dontari Poe situation an interesting case. Poe was the 11th pick, making him the top player in the round to not qualify for a fifth year at the average of the top 10 players at his position. The Kansas City Chiefs can retain Poe's services for a fifth year by offering him a contract for the average of the salaries of players ranked No. 3 through No. 25. That will be a lot less money for Poe than if he were selected one spot earlier. It's a very good deal for the Chiefs if he's any good. Kansas City has three years to determine if he's worthy of an extension.
Beyond the fifth-year situation, Poe sits between two signed players -- Stephon Gilmore (Buffalo) at No. 10 and Fletcher Cox (Philadelphia) at No. 12. Usually there's nothing to do but split the difference in the two contracts surrounding Poe and that's the deal. The problem is the difference between the Gilmore and Cox deal is $1.859 million, significantly more than the difference between the No. 9 deal for Luke Kuechly and the Gilmore deal ($480,000) or the difference in the Cox deal and Michael Floyd's contract ($270,000).
Typically, the agent will want to work off the deal above his client. By that measure, Poe would want something close to $270,000 less than Gilmore, which equates to a four-year deal for $11.87 million. The club will want to work off the deal one pick below them, putting the figure at $10.491 million. Splitting the difference equates to $11.17 million. I suspect Poe will have a hard time reaching the middle ground, let alone the top-end deal. We'll know in a few days because no rookie is holding out anymore.
The winner of Sunday's game will he headed for Super Bowl LII

SportsLine's Mike McClure, a DFS pro with more than $1M in winnings, gives optimal lineup...

Super Bowl tattoos are never a good idea until your team has actually won the Super Bowl
A couple of dogs emerge victorious in the Conference Championship round

Our computer model simulated the AFC and NFC title games 10,000 times with surprising resu...

If the past 18 weeks are any indication, Tom Brady could be in trouble Sunday