Chiefs LB Tamba Hali leaves extra $1,000 tip at Kansas City restaurant
Tampa Hali and 15 friends ate $1,530.40 worth of a food at Fogo de Chao to celebrate the Chiefs win over Houston on Sunday. After the meal, Hali tipped the Fogo serving staff over $1,000.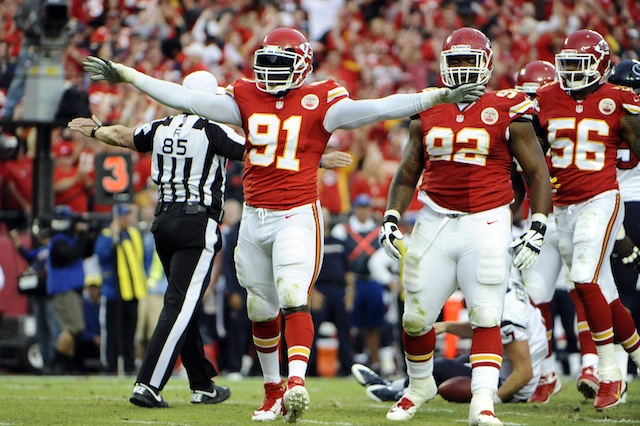 Chiefs linebacker Tamba Hali is No. 8 on CBSSports.com's most recent MVP Projection and apparently, he's not just an MVP candidate, he's an MVP tipper. After Sunday's 17-16 win over Houston, Hali and 15 friends went to a Kansas City-area Fogo de Chao to celebrate the victory and after Hali left, the server's were probably celebrating too because he tipped over $1,000. 
Hali and his group ordered $1,530.40 worth of food and drinks at Fogo de Chao and because of the size of his group, a 19.4 percent gratuity ($296.69) was automatically added to the bill for a total of $1,827.09. An almost $300-tip is great, but not great enough for Hali, he decided to add $1,000 more. 
With the included gratuity, the eighth-year linebacker ended up tipping a total of $1,296.69 or 84.7 percent of the $1,530.40 total bill. The tip was split among the servers on staff while Hali was in the restaurant.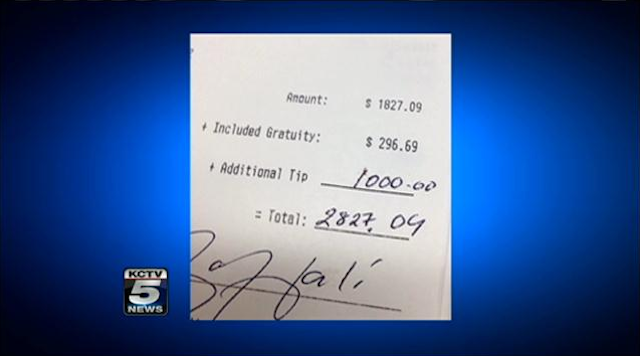 "It made our day. Hands down, it made our day," server Joshua Roan said, via KCTV-5 in Kansas City. "The staff was over the top. He was the last guest in the building. There was a lot of shouting and hollering after he left. We had to wait until he left. We had to keep it professional."
Now, letting a local television station interview you about a giant tip probably shouldn't be your first move if you're a server. It should be your second move after using the money to pay your November rent. Also, with all the bad tipping stories out there, it's nice to hear a good one and this is a good one. 
Plus Christian McCaffrey looks awesome, Mariota delivers and more from Saturday's preseason...

The second-year quarterback already looks fantastic for the Cowboys

If you're an NFL team and you want Phillip Dorsett, just give the Colts a call
Carolina's offense featured McCaffrey in a multitude of ways on Saturday

This is why you should only eat dinner alone

The Kaepernick situation is slowly turning into a black eye for the NFL