Chiefs RB Jamaal Charles ruled out of Colts game with concussion
Chiefs running back Jamaal Charles is being evaluated for a possible concussion and his return to Kansas City's wild-card game against the Colts is questionable.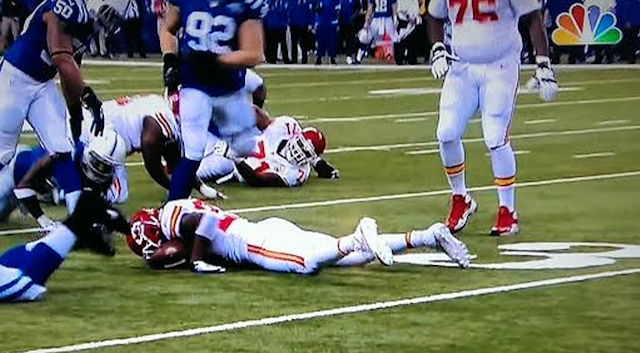 One of the worst thing that could happen to the Chiefs offense has happened: Running back Jamaal Charles went down in the first quarter and he's done for the game. The Chiefs announced that Charles has a concussion and will not return to Kansas City's wild-card playoff game against Indianapolis.  
The injury happened on the Chiefs first offensive series on a first-and-10 play from Colts 39. Charles took a handoff from quarterback Alex Smith and gained seven yards, but appeared to hit his head on the turf at the end of the play. After hitting the ground, the ball fell from Charles' arms. 
The Chiefs running back left the game after the play and then spent some time on Kansas City's sideline before being taken to the locker room. 
Charles isn't Kansas City's entire offense, but it's close. During the regular season, the running back led the Chiefs in rushing yards (1,287), receiving yards (693), rushing touchdowns (6) and receiving touchdowns (7). 
With Charles out, backup running back Knile Davis has been carrying the load for Kansas City and Smith has stepped up. Since Charles left the game, Smith has thrown three touchdown passes, including a 79-yarder to Donnie Avery to give Kansas City a 24-10 second quarter lead. 
Everything you need to know about the Packers-Panthers game on Sunday afternoon

The Lions will be wearing their Color Rush uniforms for the first time on Thursday

The Lions look to maintain playoff positioning while the Bears attempt to play spoiler
The Panthers have hired an outside law firm to conduct the investigation

Here's every official injury designation for each NFL team for Week 15

Bennett was one of the few players who escaped punishment after Sunday's melee in Jacksonv...