Chiefs top Texans 30-0 for first playoff win in 22 years: 6 things to know
The Chiefs returned the opening kickoff for a touchdown and never really looked back.
Kansas City Chiefs running back Knile Davis took the opening kickoff 106 yards for a touchdown to get the playoff party started, and the Texans never really challenged from there.
Texans quarterback Brian Hoyer proceeded to turn the ball over four times in the first half (three interceptions and a fumble) and even though the Chiefs managed to turn that kick return and those turnovers into only 13 points before the break, an excellent defensive performance, two second-half touchdowns and another field goal from Cairo Santos were more than enough to secure K.C.'s first playoff victory since January 1994, when Joe Montana was the quarterback. Ironically enough, that victory came across the street from where the Chiefs played Saturday, against the Houston Oilers at the Astrodome.
This win snapped the Chiefs' playoff losing streak at eight games, which was tied with the Detroit Lions for the longest active streak in the NFL. It also snapped a three-game postseason losing streak for head coach Andy Reid. Reid's Chiefs lost their opening round game to the Indianapolis Colts two years ago, and he lost the final two playoff games of his tenure with the Philadelphia Eagles as well. Before that, Reid's teams had won at least one playoff game in every one of his playoff appearances.
The Chiefs got this one done with defense, just as they've been doing during what is now an 11-game winning streak. We've shown you this chart before and it's likely that we'll show it to you again. Kansas City's defensive improvement from their 1-5 start to their 10-0 season-ending stretch was nothing short of remarkable.
Kansas City's Defensive Improvement
WEEKS
W-L
OPP PPG
OPP YDS/GM
DEF DVOA
1-6
1-5
26.5
372.8
24th
7-17
10-0
12.8
303.2
2nd
They were even better Saturday, not letting the Texans score at all while holding them to a meager 226 total yards. They sacked Hoyer three times, picked him four times and recovered one of his two fumbles. They stopped Houston on its only red zone trip of the day. They gave their offense an average starting field position of the 30.9 yard line, which would have ranked as the second-best starting field position in the NFL this season, behind only the Chiefs' actual regular-season mark of the 31.3 yard line.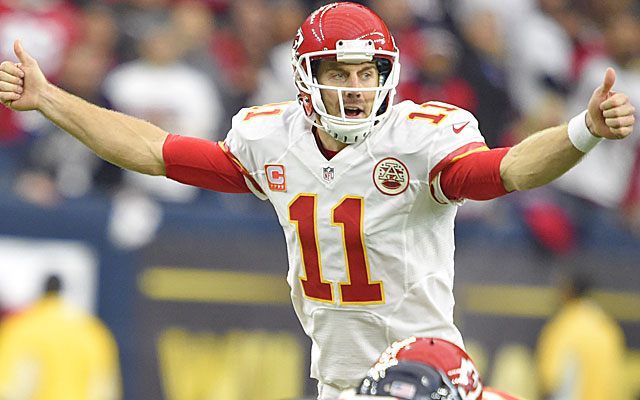 It took until the second half for the offense to really get going, but with how the defense wiped out any possibility of the Texans scoring, it didn't much matter. Saturday's opponent wasn't quite up to the challenge.
The Chiefs, now winners of 11 straight, are still the hottest team in the NFL. Up next is a date with either the Broncos or Patriots. Can they keep this going? We'll just have to watch next weekend to find out.
Here are a few more things to know about this wild card game...
2. Watt watch: Texans defensive lineman J.J. Watt did not have his typical game. He finished with just one tackle and didn't record a sack. He also got injured on the Chiefs' first drive of the third quarter while trying to turn the corner against Kansas City tackle Eric Fisher. 
J.J. Watt's leg shut down on him here. He's limping off the field again. pic.twitter.com/I4WiOKAn22

— HuffPost Sports (@HuffPostSports) January 9, 2016
Watt limped off the field with what appeared to be a groin injury after that and did not return.
He was used for a single play as a wildcat quarterback when the Texans got near the goal line in the first half, but his rushing attempt (behind fullback Vince Wilfork!) got stuffed in the backfield. Hoyer threw an interception on the next play and the Texans never threatened to make the game close again.
3. Brian Hoyer and the terrible, horrible, no-good, very bad day: Speaking of Hoyer ... this one was ugly for him. He finished the day 15 of 34 for 136 yards. He was picked off four times on throws that had basically no chance (they were so terrible that the NFL didn't even post video to its official account) and should have been picked at least once more.
He also lost a fumble on whatever this nonsense was.
Brian Hoyer flat whiffs on the pass pic.twitter.com/1HaK9EiUfA

— The Cauldron (@TheCauldron) January 9, 2016
By the end of the game, Hoyer was 6 of 11 for 69 yards when throwing to No. 1 wideout DeAndre Hopkins and 9 of 23 for 67 yards and 4 picks when throwing to anyone else.
You know your day has gone horribly wrong when the home fans start chanting for Brandon Weeden.
"We want Weeden" is the saddest chant in NFL playoff history.

— Gregg Rosenthal (@greggrosenthal) January 10, 2016
Yikes.
4. If returning kickoffs is cool, consider him Knile Davis: Yes, that's a Billy Madison reference.
Kansas City started this game up in about as perfect a way as possible, as Knile Davis took the opening kickoff back 106 yards for a touchdown to stake the Chiefs to a 7-0 lead a mere 11 seconds into the game. 
Opening Kickoff: That. Just. Happened. Knile Davis --> 106 yards --> to the HOUSE! #KCvsHOU https://t.co/epoz4mGT8z

— NFL (@NFL) January 9, 2016
NO FREAKING WAY. We ? Playoff Football.

— NFL Network (@nflnetwork) January 9, 2016
@nflnetwork Way.

— x-Kansas City Chiefs (@Chiefs) January 9, 2016
It was the second-longest kickoff return touchdown in NFL playoff history behind only Jacoby Jones' 108-yard return in Super Bowl XLVII. It was the first time the opening kickoff of a playoff game had been taking back for a score since Devin Hester did it for the Bears back in Super Bowl XLI. And it was the first time in NFL history that the first play of the entire playoffs was a kickoff return touchdown.
Not only that, but as we mentioned earlier Saturday, the Bears' special teams coach for the game where Hester took the opening kickoff back was a man by the name of Dave Taub, the same man that coaches the Chiefs' special teams these days.
5. A costly victory? This win for Kansas City may have come at a cost. Wide receiver Jeremy Maclin went down with what appeared to be a knee injury late in the third quarter. Maclin was down on the field for a while before eventually being helped off and then carted into the locker room, tears rolling down his face.
Jeremy Maclin is getting evaluated after a big hit to his right knee. He was in tears on the sideline. pic.twitter.com/C6JQVwOo9L

— SportsCenter (@SportsCenter) January 9, 2016
Maclin gave the Chiefs a weapon this season that they simply did not have last year, when Alex Smith failed to throw a touchdown to a wide receiver all season. He finished 2015 with 87 catches for 1,088 yards and eight touchdowns, chipping in three catches for 29 yards before leaving this game with the aforementioned injury.
In his stead the rest of the way, Albert Wilson and Chris Conley handled the majority of the snaps at wide receiver, and that's likely how it'll remain if Maclin misses future playoff games. That puts them at a disadvantage when working against whoever next week's opponent will be.
6. What's next? Houston's season, obviously, is over. The Texans won the decrepit AFC South with nine wins this season, but it's clear the team needs a lot of work. There are very few offensive playmakers on hand outside of Hopkins, and Hoyer showed Saturday that he may very well have been playing over his head for much of this season. The Texans should be in the market for a QB this offseason, whether in the draft or free agency. Some help along the offensive line to protect whoever the quarterback is next season wouldn't hurt, either, and it's not as though there aren't areas of the defense that need shoring up as well.
The Chiefs will head to either Denver to take on the Broncos or New England to take on the Patriots, depending on the result of Saturday night's Steelers-Bengals game. If Cincinnati wins, Kansas City will play the No. 1-seeded Broncos. If Pittsburgh prevails, K.C. will take on the Pats.
The bulletin board material is piling up for Sunday's AFC Championship game

The right tackle was behind the underdog masks and is now selling 'Home Dogs' shirts

Everything you need to know about the AFC and NFC title games
The Jaguars are poised for the biggest upset in recent playoff history

The Broncos might have tipped their hand as to which player they're targeting at No. 5

The Jags were laughingstocks as recently as this summer; now they're 60 minutes from an AFC...