Chip Kelly changing up Eagles locker room assignments
Eagles coach Chip Kelly changed the locker room seating arrangements and position groups no longer will be segregated in the way they were during the Andy Reid era.
• 1 min read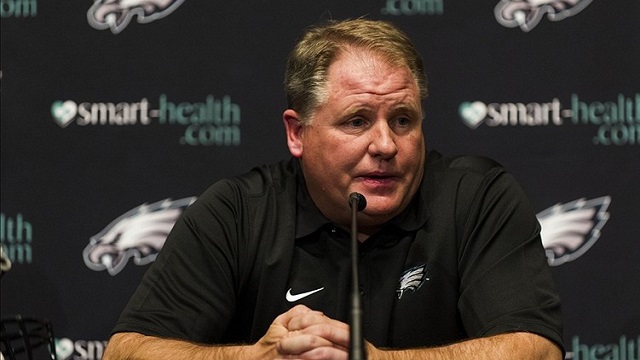 Since the Eagles hired Chip Kelly as their coach, some, like CBSSports.com's Pete Prisco, have wondered whether the longtime college coach and his his up-tempo spread offense would lead to an NFL revolution.
That remains to be seen (though I'm guessing he'll be less revolutionary than some might believe), but here's one thing we reportedly know: Kelly has been doing some interior decorating.
The Philadelphia Daily News reports that Kelly changed up the locker room seating arrangements and that position groups no longer will be segregated in the way they were during the Andy Reid era.
"If you look around the room right now, most of it is veterans next to young guys," center Jason Kelce told the paper. "Last year, I think the team lacked a lot of leadership. Instead of putting guys in positions together, where position [groupings] are young, they don't really have a leader yet, all of a sudden everybody's around older guys who have been doing it for a long time.
"I think the vast majority of guys are all for everything he's trying to do -- any type of change, you're going to have a few guys who don't like it. They usually come on about two or three weeks later. They'll be fine with it."
While this news isn't exactly revolutionary, Kelly has shown signs of different thinking from the typical NFL head coach, most notably by hiring a sports science coordinator. Perhaps Kelly is now showing more interest in science by (bad pun alert!) adjusting the team chemistry.
"I think it's going to help us blend a little better as a team," offensive lineman Todd Herremans said. "You're with your position so much, in the meeting rooms and like that. This'll also have us hold each other accountable ... I like all the ideas he's thrown at us. Everything he does has a reason."
That goal, of course, is to triumph over the Eagles opponents. Maybe changing up the locker room assignments will help in some kind of minor way, but as for winning games, Kelly's schemes and gameplans probably will have a much greater impact.
Smith is facing up to seven years in prison if convicted

Plus everything else you need to know about Week 2 of the 2017 NFL preseason

This is why being a rookie in the NFL isn't fun
The Raiders running back went Beast Mode on reporters

Elway tried his best to emphasize how complicated the situation is

The executive director NFLPA has an ugly prediction for the future of the NFL