Chris Kluwe blasts former Vikings bosses Frazier, Spielman, Priefer
In writing a piece for Deadspin, former Vikings punter Chris Kluwe accuses his former bosses of being cowardly and bigoted.
• 3 min read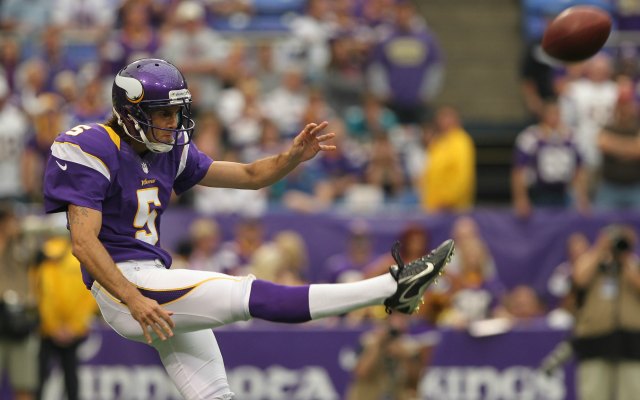 Ever since punter Chris Kluwe was cut by the Vikings after the 2012 season, he's been asked many times, including by me, whether he thought his outspokenness on marriage equality was one of the reasons Minnesota released him.
He always said he wasn't sure because he wasn't present for the personnel meetings but he also said one day he would write about his experiences with the Vikings. Thursday was that day.
Kluwe, writing for Deadspin in a piece titled "I Was An NFL Player Until I Was Fired By Two Cowards And A Bigot," reveals why he believes he was fired from his job in Minnesota, and he blames former coach Leslie Frazier, general manager Rick Spielman and special teams coach Mike Priefer. Kluwe also writes that he wants to make sure Priefer never gets another coaching job again.
"I honestly don't know if my activism was the reason I got fired," Kluwe writes. "However, I'm pretty confident it was."
Here are some of the accusations made by Kluwe:
-After Kluwe wrote an open letter to Maryland delegate Emmett C. Burns Jr., blasting him for his criticism of former Ravens linebacker Brendan Ayanbadejo, Frazier called Kluwe into his office to tell him he needed to stop speaking out on the marriage equality issue. Kluwe disagreed, and after the two went back and forth, a tense Frazier reportedly said, "If that's what you feel you have to do ..."
The next day, Vikings owner Zygi Wilf shook Kluwe's hand and told him he was proud of him for speaking out. After Frazier called Kluwe back into his office, Kluwe told him about his meeting with Wilf. Said a "stunned" Frazier: "Well, he writes the checks. It looks like I've been overruled."
-Priefer reportedly used homophobic language around Kluwe after the punter began to speak out on the equality issue.
Wrote Kluwe, "He had not done so during minicamps or fall camp that year, nor had he done so during the 2011 season. He would ask me if I had written any letters defending 'the gays' recently and denounce as disgusting the idea that two men would kiss, and he would constantly belittle or demean any idea of acceptance or tolerance. ... Mike Priefer also said on multiple occasions that I would wind up burning in hell with the gays, and that the only truth was Jesus Christ and the Bible. He said all this in a semi-joking tone, and I responded in kind, as I felt a yelling match with my coach over human rights would greatly diminish my chances of remaining employed."
Kluwe said he felt uncomfortable each time Priefer used that kind of language. This, Kluwe writes, was not the only time Priefer used such hateful language.
Before Kluwe was released, Priefer notably said this to the media about his punter: "Those distractions are getting old for me, to be quite honest with you."
-After Kluwe underwent knee surgery in January of 2013, he writes that nobody -- not Spielman, not Frazier, not Priefer -- called him to check in on him.
The first time Spielman contacted him was for this:
Writes Kluwe: "On Feb. 11, I received a message saying, 'Please fly under radar please,' from a phone number I would later learn belonged to Rick Spielman. The text message presumably concerned several things I had tweeted that day regarding the Pope Benedict XVI's decision to step down. Spielman later called me and asked me to stop tweeting about the pope because angry people were ringing up team headquarters in Winter Park, Minn."
Kluwe also writes about how he first learned that the team drafted a punter in 2013 and how he's statistically the best punter ever to wear a Vikings uniform.
It's an intriguing read, and Kluwe is a strong writer. Check out the full piece if you have some time.
And Kluwe, toward the end of my piece, manages to get in one more shot at Priefer:
"If there's one thing I hope to achieve from sharing this story, it's to make sure that Mike Priefer never holds a coaching position again in the NFL, and ideally never coaches at any level," Kluwe writes. "... It's inexcusable that someone would use his status as a teacher and a role model to proselytize on behalf of his own doctrine of intolerance, and I hope he never gets another opportunity to pass his example along to anyone else."
Follow Josh Katzowitz on Google+
The Chiefs took a big step toward winning the AFC West title

The Lions cruised to a victory but will need to win out to have any chance of reaching the...

Here's every official injury designation for each NFL team for Week 15
This might go down as the best catch of Week 15

Our computer model simulated every Week 15 NFL game 10,000 times with very surprising resu...

Ryan Shazier and the Steelers were the big winners in Pro Bowl voting that was unveiled on...