Chris Kluwe's lawyer threatens legal action against Vikings
Chris Kluwe's lawyer has threatened a lawsuit against the Vikings after the teams announced that it would be retaining special teams coordinator Mike Priefer for the 2014 season.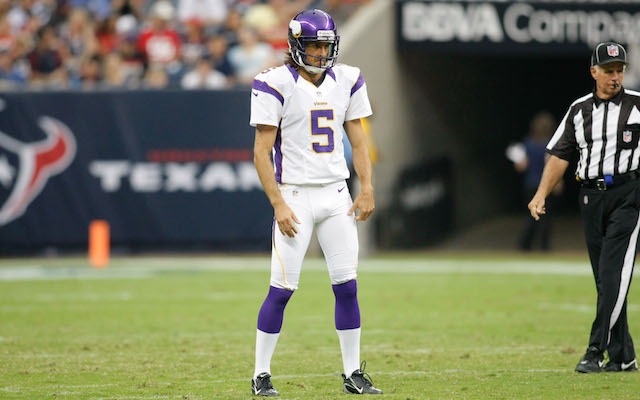 The Vikings announced their 2014 coaching staff on Thursday and as of right now, that 2014 coaching staff will include special teams coordinator Mike Priefer. The inclusion of Priefer is something that's not sitting well with Clayton Halunen, the lawyer of former Vikings punter Chris Kluwe. 
Halunen said he's ready to file a lawsuit against the Vikings if that's what needs to be done.
"It's just a matter of when we begin litigation," Halunen said via the St. Paul Pioneer Press. "That's the only question in my mind now. Do we immediately file suit or do we wait and see if we get the confirmation we get from their supposed investigation?"
Back at the beginning of January, Kluwe wrote an article for Deadspin that he titled, "I Was An NFL Player Until I Was Fired By Two Cowards And A Bigot" with the bigot being Priefer. In the article, Kluwe alleged that Priefer told him on multiple occasions that he 'would wind up burning in hell with the gays' because of Kluwe's vocal support for marriage equality. 
Shortly after Kluwe's allegations were made, the Vikings promised to conduct a thorough investigation of everything Kluwe alleged. 
"It is extremely important for the Vikings organization to react immediately and comprehensively with an independent review of these allegations," team owner Mark Wilf said in a statement on Jan. 3. 
On Thursday, after it was clear the Vikings were going to retain Priefer, Kluwe's lawyer called the investigation a 'charade.'
"It's almost unimaginable that there's a pending investigation regarding whether or not this guy engaged in homophobic, hate-filled behavior and without even a conclusion in the findings they've retained this person as a coach, as a leader," Halunen said. "It shows that the Vikings are not sincere about this supposed investigation, that it's a mere charade, and at the end of the day they're going to cover up this."
For his part, Kluwe told the Pioneer Press that he won't comment until the investigation concludes. 
One of the lead investigators in the case, former US Department of Justice trial attorney Chris Madel, said the goal is to have the investigation concluded by the end of March. Halunen's beef with the team is that he said he'd been told that Priefer's status with the Vikings wouldn't be decided until after the investigation had concluded. 
Just because Priefer was named to the coaching staff though, doesn't mean he'll necessarily be on it when the season starts. According to the Pioneer-Press, the team will likely re-evaluate Priefer's situation after the investigation concludes. 
New coach Mike Zimmer has already proven that he's not going to put up with nonsense. The Vikings parted ways with linebacker Erin Henderson on Friday. Henderson started 12 games for Minnesota in 2013, but the team had a hard time overlooking the fact that he was arrested twice in a 45-day period between mid-November and Jan. 1. 
The winner of Sunday's game will he headed for Super Bowl LII

SportsLine's Mike McClure, a DFS pro with more than $1M in winnings, gives optimal lineup...

Super Bowl tattoos are never a good idea until your team has actually won the Super Bowl
A couple of dogs emerge victorious in the Conference Championship round

Our computer model simulated the AFC and NFC title games 10,000 times with surprising resu...

If the past 18 weeks are any indication, Tom Brady could be in trouble Sunday