Chris Pratt, Chris Evans make awesome Super Bowl bet
Star-Lord likes the Seahawks while Captain America is a Patriots fan.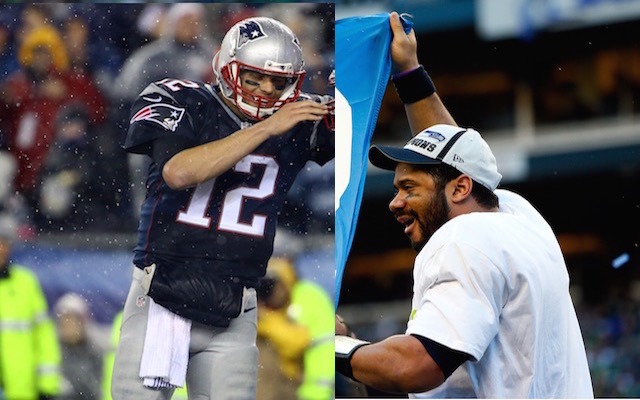 Chris Pratt and Chris Evans are two of the biggest movie stars in America right now. Pratt played Peter Quill, also known as Star-Lord, in last year's Guardians of the Galaxy, the highest-grossing film of the year. Evans, meanwhile, has appeared as Steve Rogers, also known as Captain America, in four Marvel universe films since 2011 and is set to appear in at least two more.
They're also both big football fans. Pratt hails from Seattle and cheers for the Seahawks, while Evans is from Boston and likes the Patriots. First of all, it's pretty coincidental that Captain America happens to be a Patriots fan. Second of all, check out this sequence of tweets between Star-Lord and Captain America that led to an awesome bet on the result of the Super Bowl.
Well, well, well @prattprattpratt, looks like our teams are going into battle. For the next 2 weeks, you are not my friend, you are my enemy

— Chris Evans (@ChrisEvans) January 19, 2015
@ChrisEvans We both know there's only one Captain America and his name is Russell Wilson. #SuperBowlBound #LOB #Repeat

— chris pratt (@prattprattpratt) January 19, 2015
@prattprattpratt them's fightin words. Stakes? #whatisaseahawkanyway #somethingtombradyhunts

— Chris Evans (@ChrisEvans) January 19, 2015
@ChrisEvans OK. Seahawks win you fly yourself to Seattle, visit @seattlechildren hospital as Captain America, waving the 12th man flag.

— chris pratt (@prattprattpratt) January 21, 2015
@prattprattpratt I accept. And when the Patriots humiliate your seachickens, I expect Star-Lord to arrive at @chris_haven in a Brady jersey

— Chris Evans (@ChrisEvans) January 21, 2015
No matter what the mayors of Seattle and Boston decide to wager in the traditional Super Bowl bet, it can't possibly top this.
He also explains why he's the best quarterback in this year's draft

Here's everything you need to know to follow the 2018 NFL Draft

The two cheerleaders only want $1 apiece and a 'good faith' meeting
Luck is making steady progress as the team gets acclimated under new coach Rank Reich

Bryant remains a free agent after the Cowboys cut him late during the offseason

Yes, Garoppolo has seen the video that shows just how similar his mannerism are to Brady's....