Christian Ponder dislocates shoulder in Vikings win over Redskins
Christian Ponder suffered a dislocated left shoulder in the Vikings 34-27 win over Washington on Thursday.
• 1 min read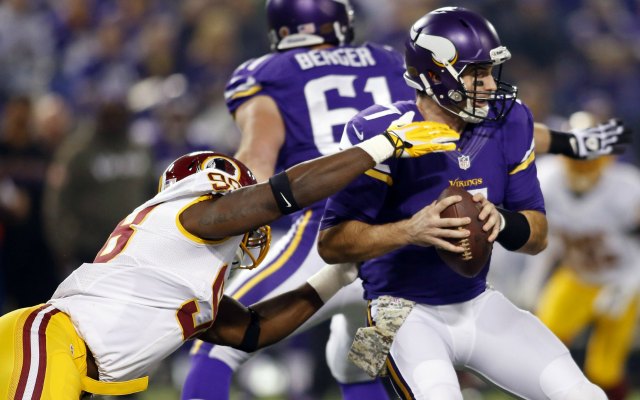 Vikings quarterback Christian Ponder was knocked out of Thursday's win over Washington with a shoulder injury. After the game, coach Leslie Frazier said that Ponder suffered a dislocated left shoulder.
Ponder threw for 174 yards and two touchdowns before being knocked out of a game Minnesota would go onto win 34-27. 
The Vikings now have 10 days off until playing Seattle in Week 11 and Ponder sounds like someone who plans on playing against the Seahawks, "My expectation is to be back next week," Ponder said. "We have a great training staff." 
The 25-year-old quarterback was injured late in the third quarter when he tried to dive into the end zone at the end of a 14-yard scramble. Ponder came up a yard short on the play and dislocated his shoulder in the process.
Ponder, flushed from the pocket and scrambling, dove for the left pylon, but he got blasted by Redskins cornerback DeAngelo Hall before he reached the goal line. He got up holding his left arm and immediately left the game and returned to the locker room.
Although he was throwing on the sideline after his injury, the team announced soon after that Ponder would not return to the game because of a shoulder injury.
Backup Matt Cassel entered the game in place of Ponder and handed the ball off to Adrian Peterson for a 1-yard touchdown run that gave Minnesota a 28-27 lead. At one point in the third quarter, the Vikings trailed the Redskins 27-14. 
With Ponder out, Cassel ended up leading the Vikings offense on two fourth quarter scoring drives that both led to Blair Walsh field goals. Cassel finished 4 of 6 for 47 yards in the 34-27 win.
Follow Josh Katzowitz on Google+
Chris Long put his arm around Malcolm Jenkins during his teammate's protest on Thursday

Nick Folk had some trouble putting the ball through the uprights against Jacksonville

If this fan was general manager of the Jaguars, Blake Bortles probably wouldn't be quarter...
It looks like we're going to have a quarterback competition in Jacksonville

Smith is facing up to seven years in prison if convicted

Plus everything else you need to know about Week 2 of the 2017 NFL preseason