Cleveland Browns want to interview Auburn's Malzahn, Vandy's Franklin
The Browns are interested in interviewing Auburn coach Gus Malzahn and Vanderbilt coach James Franklin for their head coaching vacancy, according to league sources
• 2 min read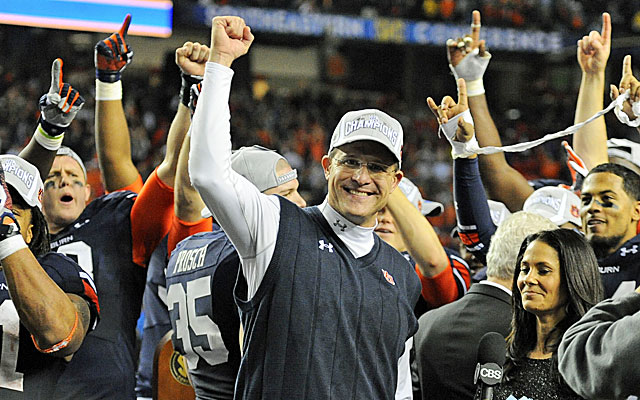 The Cleveland Browns are very interested in interviewing Auburn coach Gus Malzahn and Vanderbilt coach James Franklin for their head coaching vacancy, according to league sources, and are expected to hire Jim Schwartz as defensive coordinator.
The Browns, who shocked the NFL by firing head coach Rob Chudzinski after one season, have interviews scheduled with several coaches, but, according to league sources, are doing arduous legwork on Malzahn and Franklin, and are very intrigued by them. Some believe Malzahn is actually the most likely of the group to land the position, though the process is still very much in its early stages.
Malzahn, who will compete for the national title next week, is viewed by some as the candidate who has most captured the imagination of the organization right now, and, while he has flown under the radar of most NFL coaching searches to this point, he is very much under consideration by the Browns. Malzahn coaches in the SEC, which Browns owner Jimmy Haslam follows very closely as a Tennessee booster. This season Malzahn's Tigers beat Alabama, coached by Nick Saban, who is held in very high regard by the Browns front office.
Franklin coaches within the state of Tennessee, obviously catching Haslam's eye, and he was a successful NFL position coach at Green Bay as well. That combination has made him attractive to several teams, and league sources anticipate him getting consideration elsewhere as well.
Josh McDaniels has strong ties to some in the organization but would have to impress team president Joe Banner during the interview process to land the job. McDaniels is an Ohio native and has had great success on the offensive side of the ball, where the Browns must improve.
The Browns do not expect to have offensive coordinator Norv Turner back -- he has been in essence let go, as one source with knowledge of the situation put it -- and defensive coordinator Ray Horton is being allowed to explore other positions.
Schwartz, recently fired as head coach of the Lions, is held in high regard by some in the Browns organization and he is the prime candidate to replace Horton, league sources said. Particularly if Malzahn is hired, who has a limited NFL background, it would be imperative that the Browns have some established NFL coaches around him.
It's worth noting how well former Oregon coach Chip Kelly has performed in Philadelphia -- Kelly and Penn State's Bill O'Brien were top candidates in Cleveland a year ago -- and how much that has resonated with the Browns, particularly with them now very much interested in some college candidates.
Furthermore, McDaniels, Malzahn, Franklin and Schwartz are all represented by agent Jimmy Sexton, a very powerful force in coaching circles who has strong ties to the Browns organization.
Mike McClure has made over $1 million playing DFS and gives his best daily fantasy football...

The veteran linebacker is the franchise's all-time leader in sacks

It's unclear when Timmons, a free-agent signing in the offseason, will make his Dolphins d...
The 'Peanut Punch' is coming to the FBI

Wondering which NFL team are going to win in Week 3? You came to the right place

Carl Johnson, the NFL's former VP of officiating, is facing domestic violence allegations in...