Cleveland's quarterback savior? Don't bet against Brian Hoyer
Coming off ACL surgery, and on his fourth NFL team learning his sixth system, Brian Hoyer is relentless in his belief that he can star in Cleveland -- Johnny Football or not.
• 11 min read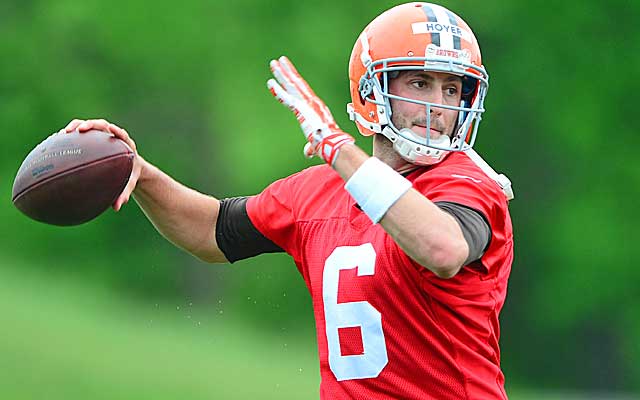 More NFL offseason: League minicamp dates | Latest news, notes
Eventually, Brian Hoyer is going to allow himself to take a little time off.
It won't be this week, of course, with the Browns starting quarterback involved in OTAs, and next week is the mandatory minicamp. But in mid June, there will be a series of consecutive days where he does not go to the team facility to train and study film, where his head is not buried in his playbook and where he does something other than focusing on his pursuit of overcoming his torn ACL and cementing himself as the leader of Cleveland's offense.
After about 40 minutes on the phone, Hoyer more or less has me convinced of this. I mean, I believe he has every intention of finally taking a week away from the game, and his recovery from an injury he has been consumed with overcoming since undergoing surgery in October. But I'm not entirely certain he won't change his mind midway through his planned respite and end up back at work, same as always.
Having come so close to living his dream -- leading the Browns to some surprising wins after finally getting a shot to play regularly following years as an NFL vagabond -- Hoyer isn't going to give up his job easily, Johnny Manziel or not. And, frankly, I wouldn't bet against him winning games in the NFL for years to come, whether in Cleveland or otherwise.
"When you go out and prove it on the field, your teammates really respect that," Hoyer said, recalling his 2013 season that ended just as it was really beginning. "And that had guys really believing in me, and the injury and the rest is history now. But my mentality never changes, even after the injury I felt like this was my team, and eventually it would be again."
That relentless focus has served the journeyman well, with an unbreakable spirit carrying him through a dizzying spell of relocations, new teams, new offenses to absorb and more bad luck than many quarterbacks will experience in their entire career.
Hoyer, 28, has continued to wow the Browns with how rapidly he has rehabbed from his season-ending knee injury and picked up yet another new system. While the football world is consistently abuzz with anything Manziel, the Browns' first-round pick, the soundtrack to the team's offseason has been Hoyer churning away on a treadmill or clanging weights or calling out plays and formations to the starting offense.
This is no time for Hoyer to let up, not with his recovery punctuated by records for how quickly he has passed each milestone along the way. He's not wired for that. So, if this means going more than a year at full throttle, from his late addition to the Browns roster last season right through the season and his injury and into this stage of 2014 preparation, then so be it. Not a problem. Rest will come later.
"It's going to be a really long year for me," Hoyer said. "I'll take one week off after we get done and that will be my first time off since the injury. I really only took a day here or there, and with all the hard work I've put in, I'll take one week off and then continue to strengthen my leg and be in the building going over film of all of our passing plays. And I'll also do all of my normal stuff like conditioning work and lifting. I'll use it as my time to gear up for the season. For me it feels like I'm still playing catch-up and doing the rehab thing for the past eight months and trying to be into the preseason mode.
"It's not what I'm used to, but I feel like it's kind of necessary having to deal with the injury and it will be something that hopefully next year I get into a normal offseason program and the season ends and I take a month off. With me having been working nonstop since November, that's something to look forward to, but it's not anything to worry about right now."
It took a special sort of dedication for Hoyer to reach this point in the first place. He tore his ACL in Week 5 last season when he seemed to be making the Browns a much more competitive team than most could have expected. Bouncing around from the Patriots and Steelers and Cardinals and Browns, with just four career starts since entering the league in 2009 as Tom Brady's backup, Hoyer knows something about appreciating, and recognizing, an opportunity when he sees one. It was going to take more than a ligament tear, and a regime change (with former general manager Mike Lombardi, the impetus for his arrival in Cleveland, among those jettisoned after just one season on the job) to sour Hoyer.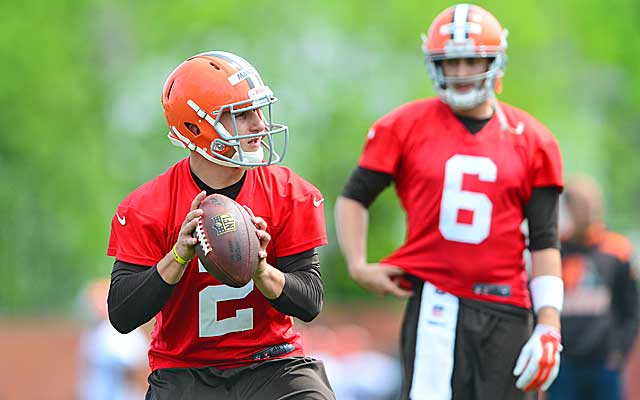 This was the first injury Hoyer could ever remember, besides a concussion or two, so originally he didn't know exactly what to expect from rehab. "I was nervous at first," Hoyer said, "but I knew it wasn't the end of the world and I put my mind to rehabbing as hard as I could and pushing the limits to be where I'm at now, nine months out, and I feel great."
That meant not always listening to everything his trainers and doctors told him, and finding alternative means to continue progressing ahead of schedule.
The first few weeks post-surgery he could do nothing but try to build range of motion, quickly going from 95 degrees to 100 degrees, never satisfied. "I almost had a full range of motion two weeks after surgery," Hoyer said. "My doctor told me most people don't get that until maybe two months."
So, um, sure, at a time when his doctors advised him to be on crutches all the time, well, Hoyer starting cheating at home, leaving them cast aside somewhere as he moved around on his own. "My trainer wasn't totally psyched about that, but it kept my muscles active even just walking around the house."
Then Hoyer found out about something called an anti-gravity treadmill, where a patient can run more or less in a bubble, adjusting which percent of their body weight applies pressure to the running surface, alleviating the strain on his knee. "I started running that probably against what my trainer and doctors wanted me to do, but I was determined to do it," Hoyer said. "And when I started to run on that, and then to step out on the field during drills, I felt like I was all ready to go."
This machine, mind you, costs about $50,000, so Hoyer found a nearby training facility with one and purchased time on it, going twice a week for a month or so, ramping up the resistance from 50 percent of his body weight to 60, and then 70 and then 80 percent. All the while his thoughts raced forward to this summer, and the chance to show a new group of coaches and front office staff what he can do. And he ended up being fully cleared medically six months to the day of his surgery, fairly remarkable stuff.
"I remember thinking, especially when the last staff was fired," Hoyer said, "I was like, 'Alright, it's a new staff, that means there is a minicamp before the draft.' And I know I have to prove myself to whoever came in there, and my goal was to participate in that as much as could, that pre-draft minicamp. I really pushed myself with that in mind."
The chance to play for new offensive coordinator Kyle Shanahan, who Hoyer has long admired, helped further motivate him. Hoyer can recall sitting with the Patriots staff as a youngster and them dipping into Shanahan's playbook, then with the Texans, to borrow some plays if you will. And while Hoyer might not be what you call a running quarterback, he is plenty athletic enough to operate outside the pocket and make things happen on bootlegs and waggles -- staples of the Shanahan offense.
"You can look at this offense with [former Texans quarterback Matt] Schaub, and people would say I'm probably a little more athletic than Schuab," Hoyer said. "And you watch the old film and he's out there doing bootlegs and rolling out and he's very good at it. And that's something I've always done whether I've been in high school or college, I've always been able to throw on the run whether that's from my time playing baseball and making throws on the run. I feel very comfortable throwing on the run, and even just two days ago they had to take me out of pistol because of the situation (to guard against a teammate aggravating his knee) but I got to roll out left on a bootleg and throw back and I had no problem with it."
Adaptation is a way of life for Hoyer. Change is a constant. This is nothing new.
He had one set of concepts and ideas in New England, after arriving there as an undrafted free agent. After spending some time out of the league, he signed with the Steelers in November 2012, and had a brief stint there before going to Arizona. Hoyer got his first start at the end of the 2012 season, for the Cardinals, and was learning another new offense there when Ken Whisenhunt was fired and Bruce Arians came in as coach. After Carson Palmer arrived, Hoyer was ultimately released by the Cardinals and signed with Cleveland on May 15, 2013 -- barely over a year ago.
"Last year I was always in catch-up mode," Hoyer said, "and this year to go through the whole offseason in one place, and be here for phase one and phase two, and the minicamp before the draft and the OTAs and the minicamp at the end, that's great. This is the sixth offense I've had to learn in the last two full years, so that part I'm used to."
Yeah, the sixth offense. Kind of hard to believe.
Shanahan's word-based system of the West Coast offense is more what Hoyer is accustomed to; former Browns coordinator Norv Turner's numerical system was more a change for him to grasp on the fly a year ago, but even that didn't prevent Hoyer from grabbing hold of the job after former first-round picks Brandon Weeden and Jason Campbell faltered.
All Hoyer did is take a sad-sack Browns team and lead it to a wild win over Minnesota in his first start, throwing for three touchdowns and 321 yards in a 31-27 victory. The following week he completed 66 percent of his passes with had two touchdowns and a 104 passer rating in a win over the Bengals, the eventual AFC North champions. And his Browns went on to win his third start, against the Bills on a Thursday night, though Hoyer was injured early in that contest.
So given all of that, and the Browns' historically deficient situation at quarterback, and the fact a new staff was taking over and the team had two first-round picks, Hoyer, ever the realist, knew what was coming this spring. His expectations were confirmed when general manager Ray Farmer kept Hoyer in the loop on some of the team's thinking at the position. The GM texted the veteran quarterback to give him a head's up when the Browns were about to make the Manziel pick.
"I think they would have been crazy not to draft a quarterback pretty early," Hoyer said. "Take myself out of it. Go back to the situation I was in in New England, where people thought it was crazy that it was just me and Tom the year after he was coming off surgery. So for a guy who is coming off ACL surgery and has only started four games, they would have been nuts not to draft the quarterback they thought would be best for the team. I welcome all competition and competition only makes us better, and it's been a good month or so we've been together now and it's a good working environment and we push each other and it's been fun."
Johnny Football is more or less just another rookie around the team facility, Hoyer said, in terms of keeping a normal profile and just trying to learn the system and become acclimated with teammates. "He's just another guy on the team and he's tried really hard to make it that way," Hoyer said. At some point, of course, the allure, from the business side or otherwise, of getting Manziel on the field sooner rather than later might be too much for the Browns to resist. This league isn't always fair, as Hoyer well knows.
But he's not dwelling on that, and, in the final year of his contract, worth a modest $1M, he's keeping his mind off the business side of things as well, with no talks of an extension materializing to this point. As long as he picks up where he left off in 2013, Hoyer figures everything will take care of itself.
"I have so much more to worry about than that," Hoyer said. "It was a short sample last year, but at least I showed people I'm capable of being a winning quarterback in this league, and no matter what happens this year I think I'll be in a good spot at the end of the season."
And with that, Hoyer turned back to football. His two small children were already asleep, another big day at the office loomed the next day. He put down his cell phone, picked up his script of plays to be honed in the next OTA, and went back to work.
Smith says the NFL's ratings decline cannot be ignored

The former Jets and Giants quarterback wants to know whether you think the Earth is round

Zach Ertz is one of the NFL's best tight ends but Philadelphia could lose his backup to free...
Second-year coach Sean McVay says his players know exactly what the expectations are

Steelers didn't trade Bryant then and they aren't looking to move him now

It had been rumored that the Jaguars might cut ties with Bortles, but instead he'll stay in...