Cold weather is here -- QBs like Tom Brady handle it better than most
Freezing temperatures will have an impact on the playoff races. Which quarterbacks handle the elements better will be a big factor.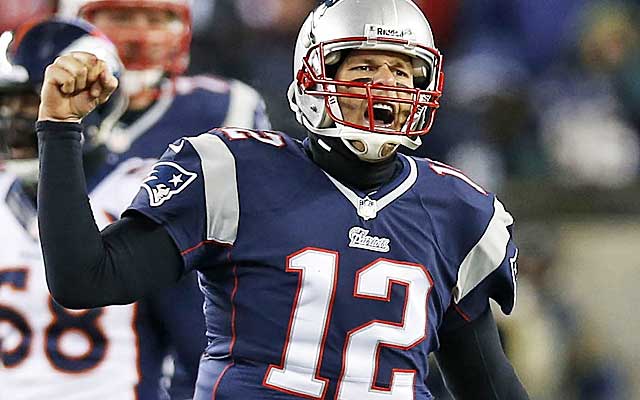 Weather is now an issue for NFL football games. Last week there were seven games with a wind chill below freezing.
Check out these game-time temperatures in Week 12 with the wind chill: 1 degree in Cleveland, 2 degrees in New England, 7 in Green Bay, 15 in Kansas City, 18 in New York, and 27 in Washington.
There are issues for teams when they play in sub-freezing weather -- from the game plan, to passing and catching the ball, to tackling. As Panthers coach Ron Rivera said to me this week, "Tackling can be a problem in the cold weather and you have to work on it in cold conditions to make sure it doesn't become an issue."
On the other side of the coin, some teams have an advantage in the cold especially if their quarterback has a history of playing well in it.
Former Steelers coach Bill Cowher said, "I never worried about the cold with Ben Roethlisberger at quarterback. He has big hands to grip the ball and he has a lot of experience playing in the cold from his high school and college days in Ohio before he even got to Pittsburgh."
As we head toward playoff football a number of teams in contention play in cold weather. Denver, New England, Cincinnati and Kansas City could all feel sub-freezing temperatures as well as Pittsburgh, Baltimore and Philadelphia to name a few.
There's no substitute for playing experience in cold weather and that was never more true than in Tom Brady's performance last week when his Patriots stormed back from a 24-0 deficit to win. When you look at Brady's history in cold weather it shouldn't shock you. Peyton Manning always seems to be criticized for his cold-weather performances, but he's not alone when it comes to having a losing record when the temperature dips.
Take a look at the quarterbacks when wind and temperature become critical factors.
Tom Brady has 46 games under his belt in cold weather with a 40-6 record. He's 29-5 at home and 11-1 on the road. He has a 10-2 postseason record inside those 46 games. He has thrown 85 touchdowns, 30 interceptions and he has been sacked 81 times. One of the most impressive facts is his 584 first downs, or an average of 13 per game.
Eli Manning is a long shot to make the playoffs, but he has better numbers in the cold than his brother. Eli is 14-8 outside when it is windy and cold. Playing in the Meadowlands can harden the best of quarterbacks. The younger Manning has 32 touchdowns, 22 interceptions and 30 sacks.
Jay Cutler isn't even healthy at this point and takes some criticism for his body language but he is respectable when the cold wind blows. Cutler is 10-9 all time and 1-1 in postseason. Cutler has thrown 33 touchdowns to 22 interceptions and been sacked 39 times.
I could have given the average fan five chances to pick the next winningest QB in this kind of weather and you make have never picked the right guy. It was a surprise to me, but last week should have been a big hint. Philip Rivers grew up in the South and has played his entire career in San Diego but he loves the cold. Obviously he has never played a home game in the bad weather but he's 8-4 on the road but 0-2 in the playoffs. Rivers has 19 touchdowns, 10 interceptions and 25 sacks.
Say what you want about Andy Dalton and Carson Palmer but both guys have winning records in the bone chilling weather. Dalton is 4-1 and Palmer is 9-7. Keep an eye on them going forward.
Some of the young guys have little experience in the cold. Russell Wilson (0-0), Andrew Luck (1-0), Colin Kaepernick (2-0), Cam Newton (1-0) and Nick Foles (0-2) have a combined record of 4-2 but no playoff games in the freezing weather.
Keep an eye on all the quarterbacks from here to the end of the regular season and always consider the weather as a factor when trying to figure out the outcome of games. As Jim Miller, the former Chicago Bears QB said, "The cold cross wind and swirling wind makes it very tough to throw accurately or long and the ball is so hard and slick and even tougher to catch."
Carolina is a weird spot and might be overthinking this franchise tag stuff

Alex Van Pelt didn't specify whether Dalton could be Joe Flacco-level elite, however

Things don't change in the alternate universe where Wentz stays healthy as far as Pederson...
Khalil Mack, Aaron Donald and Odell Beckham top list, with $20M per year non-QB on the hor...

The future Hall of Fame kicker will be back in the saddle for another year with Indianapol...

As it turns out, finding an immediate impact first-round wide receiver is a lot harder than...