Colin Kaepernick and Cam Newton dress like babies, sing Katy Perry
Panthers quarterback Cam Newton and 49ers quarterback Colin Kaepernick had a busy Monday night.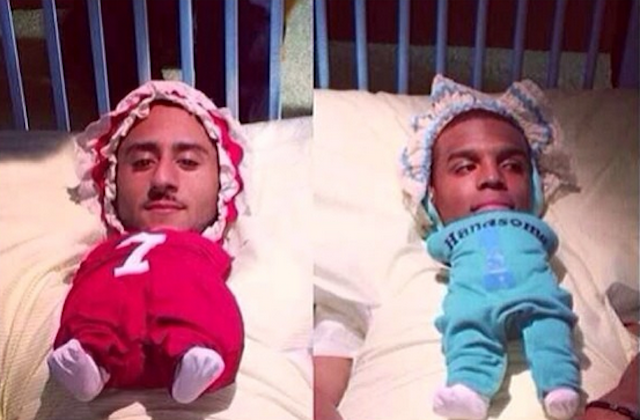 It's the NFL offseason and as everyone knows, the best thing about the NFL offseason is when players dress up like babies and sing Katy Perry songs. Both of those things happened on Monday night when Colin Kaepernick and Cam Newton hosted the Hall of Game Awards on the Cartoon Network. 
Why do Kaepernick and Newton dress like babies during the show? Can they sing at all? What do the Seattle Seahawks have do with any of this? 
All of these questions are answered in the video below. In the first 40 seconds, you'll find out why the two quarterbacks are dressed like babies. At the four minute mark, you can hear Newton and Kaepernick sing Katy Perry's hit song 'Roar.' Spoiler alert: Katy Perry sings it slightly better.
Finally, at the 5:22 mark, you'll see how the Seahawks play into all of this. As we all know, the 49ers and Seahawks are mortal enemies and at the 6:42 mark, Colin Kaepernick finally gets his revenge on Seattle. 
If you know of any other videos of NFL players singing Katy Perry songs, send them to me on Twitter because watching them is my new favorite thing. 
(Wink of the CBS Eye to Niners Nation for the video)
The Jaguars are taking some cool cleats with them to England

Tickets are dirt cheap and very much still available for the TNF matchup

The Lions are being recognized after beating two popular preseason picks to make the playo...
Hernandez was 27 when he committed suicide in April 2017

Mowins is set to become the first female play-by-play announcer in NFL on CBS hisory

The Rams have struggled against the 49ers but that was during the Jeff Fisher era