Colin Kaepernick favoriting hateful tweets from 49ers fans
Colin Kaepernick is favoriting angry tweets from people -- either 49ers fans or fantasy football owners -- and saving them for later.
In Week 1 Colin Kaepernick set the world on fire with his passing against the Packers, throwing for 421 yards (13 times to Anquan Boldin!) and basically convincing everyone he's the greatest quarterback in NFL history. The last two weeks? Yeah not so much. Kap's struggled mightily, which is what happens when you have no weapons.
No one's giving up on him, though. Or at least no one should. He'll be fine. Also, if you're mean to him on Twitter he'll favorite your tweet and save it for later: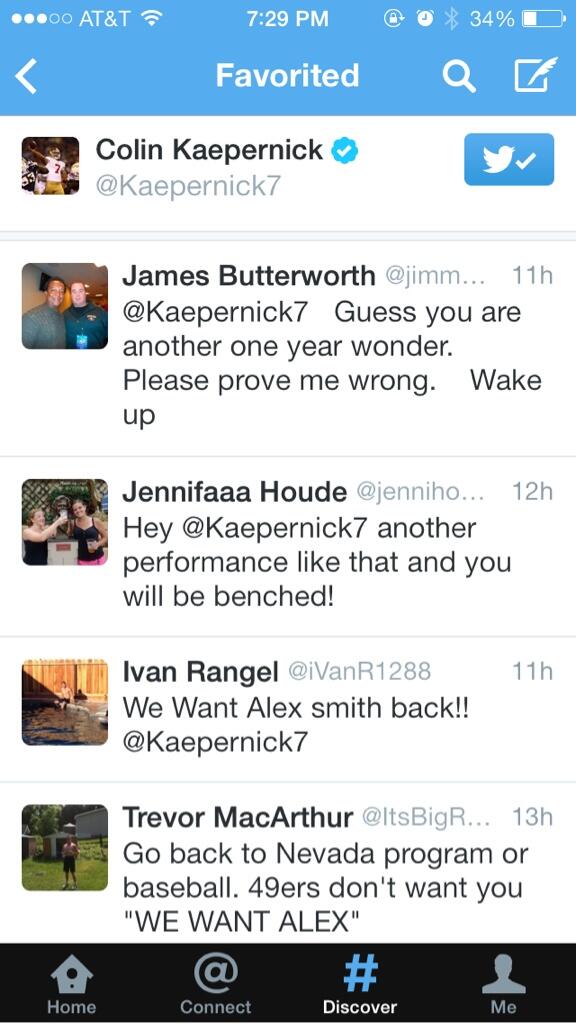 There are some more of his favorites right here and right here, saved for posterity in case Kap gets rid of them.
No one's running for the hills because Kap is favoriting tweets. Sure fairweather 49ers fans are going to look pretty stupid when he starts playing well again, but it's not like John Rando on the Internet is going to freak out because Kaepernick proved him wrong. (People are wrong and look stupid on the Internet millions of times per day and rarely admit it or care. Insert your own joke about me here.)
But at some point Kap's going to get going again. Two games -- especially when they're games against either the NFL's best secondary or without Vernon Davis in the lineup -- don't definite a quarterback. There are red flags here but not major issues.
Kaepernick will be fine. And here's hoping when he gets going again these people get some personalized tweets.
The winner of Sunday's game will he headed for Super Bowl LII

SportsLine's Mike McClure, a DFS pro with more than $1M in winnings, gives optimal lineup...

Super Bowl tattoos are never a good idea until your team has actually won the Super Bowl
A couple of dogs emerge victorious in the Conference Championship round

Our computer model simulated the AFC and NFC title games 10,000 times with surprising resu...

If the past 18 weeks are any indication, Tom Brady could be in trouble Sunday