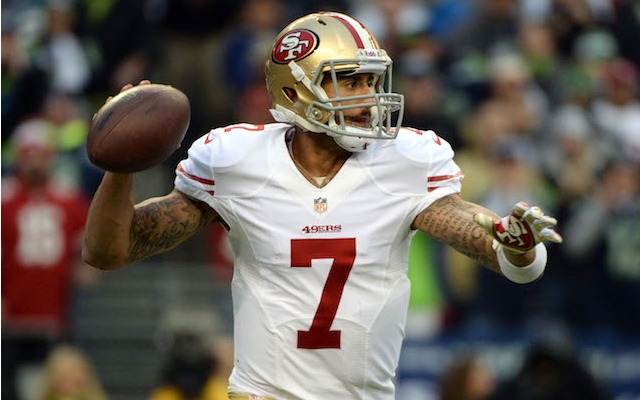 More NFL offseason: NFL Mock Drafts | Prospect Rankings | Top free agents
NFL quarterbacks throw fast, but since there's no radar gun at NFL games, you never quite realize how fast. That's where the NFL combine comes in. There is a radar gun at the combine and last week, for the first time since record-keeping began in 2008, someone hit 60 mph with a throw.
That someone was Virginia Tech quarterback Logan Thomas, according to Ourlads.com. Thomas broke the previous combine record of 59 mph, which had been held by Colin Kaepernick and four other quarterbacks. 
When Kaepernick threw his 59 mph pass in 2011, that broke the previous record of 58 mph. Kaepernick's record lasted until Thomas broke it this year. 
As you'll see on the list below, throwing fast doesn't necessarily get you anywhere in the NFL. As a matter of fact, it seems to get you nowhere. Of the quarterbacks who have thrown the 10 fastest passes, Kaepernick is the only one who has experienced any substantial success.
Although Zac Dysert, who's also thrown a 59 mph pass, does have a Super Bowl appearance on his resume, just as Kaepernick does. Dysert was the backup to Peyton Manning's backup in Denver. It's a cushy job if you can get it. 
On the other hand, since 2008, throwing slow hasn't exactly been a good thing, either. 
There has never been a QB who threw less than 54 mph w/ any long term success in NFL. http://t.co/v0iw6Q9XoK

— Benjamin Allbright (@AllbrightNFL) March 2, 2014
Here's the 10 fastest throws at the combine since official record-keeping began in 2008: 
1. Logan Thomas, Virginia Tech (2014), 60 mph
T-2. Stephen Morris, Miami (Fla.) (2014), 59 mph
T-2 Zac Dysert, Miami (Ohio) (2013), 59 mph
T-2. Tyler Bray Tennessee (2013), 59 mph
T-2. Brandon Weeden, Oklahoma State (2012), 59 mph
T-2. Kirk Cousins, Michigan State (2012), 59 mph
T-2. Colin Kaepernick, Nevada (2011), 59 mph
T-8. Austin Davis, Southern Miss (2012), 58 mph
T-8. Ryan Mallett, Arkansas (2011), 58 mph
T-8. John Parker Wilson, Alabama (2009), 58 mph
T-8. Mike Reilly, Central Washington (2009), 58 mph
T-8. Drew Willy, Buffalo (2009), 58 mph