Colin Kaepernick says he played in 2013 with chipped bone in his foot
Forty-Niners quarterback Colin Kaepernick played part of the 2013 season with a chipped bone on his forefoot.
If you look at Colin Kaepernick's rushing stats from 2013, you'll probably notice they took a nosedive after Week 2. Apparently there's a pretty good reason for that. 
Kaepernick told the Sacramento Bee he suffered a chipped bone on his forefoot and ruptured a capsule on the ball of his foot in a 29-3 loss to the Seahawks in Week 2. 
"Running down the sideline and went down," Kaepernick said of the play where he was injured. "And I think it was one of their linemen or linebackers landed on my foot when I was on the ground."
After rushing for 87 yards against the Seahawks, Kaepernick only averaged 15.75 yards per game over the next four. The 49ers quarterback was listed on the team's injury report with a foot problem until the San Francisco's bye in Week 10, although the team never specified the severity of his injury. 
"It was something that was always there," Kaepernick said. "Never spoke about it, never said anything about it because you're a football player; you play through pain. Unless you're being carted off, you should be on the field. If it's something you can play through, that's what you do."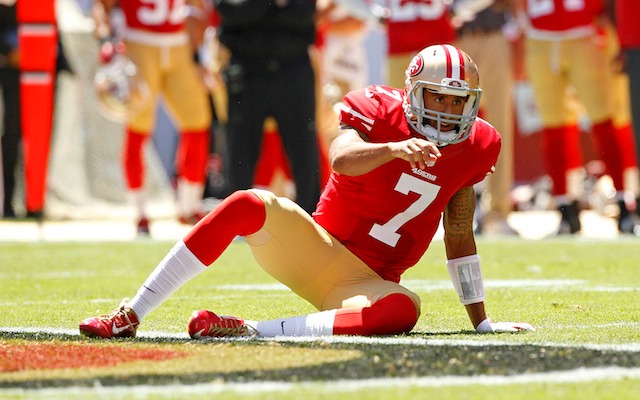 Kaepernick added that that's the mentality of everyone on the team. 
"I think that's the kind of players we have on this team: You're not going to let something that's minor, that's not a true injury, keep you off of the field," Kaepernick said. "You're going to hurt, yes. You're going to have tweaks and problems. But you're a football player; you can play through those."
During a press conference Tuesday, the 26-year-old quarterback said the injury didn't require offseason surgery and healed with rest. Kaepernick also said that the injury wasn't a factor at all when he was asked if his foot bothered him in the NFC title game against Seattle. 
The 49ers are obviously satisfied with Kaepernick's health or they probably wouldn't have signed him to an extension in June. 
Everything you need to know about the Redskins-Saints matchup this weekend

Here's every official injury designation for each NFL team for Week 11

The Dolphins took another blow amid a rough stretch of football
Our computer model simulated every Week 11 NFL game 10,000 times with very surprising resu...

The NFL on CBS broadcaster also broke down the differences between Dak, Goff and Wentz

The Legion of Boom is getting older and injuries are taking their toll