Colin Kaepernick says he's criticized because of 'stereotypes and prejudice'
Forty-niners quarterback Colin Kaepernick says that his tattoos are part of the reason that he's been unfairly criticized in his career.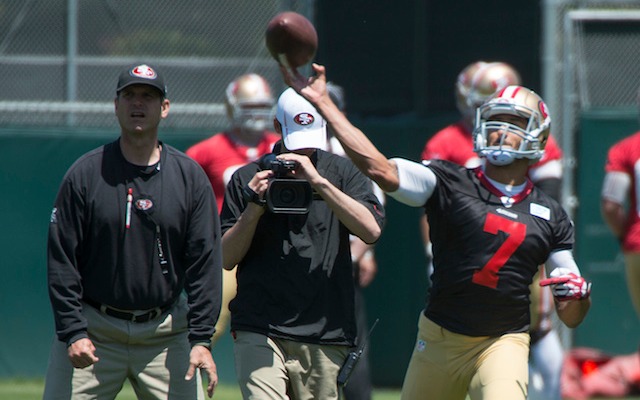 More NFL: Photos |  Videos & GIFs |  Training Camp updates | Manziel watch
Former NFL quarterback Chris Simms believes that Colin Kaepernick receives unfair criticism. Simms got a chance this week to ask Kaepernick why that might be and Kaepernick says it comes down to two things: 'stereotypes' and 'prejudice.' 
In case you haven't noticed, Kaepernick isn't shy about showing off his tattoos. The 49ers quarterback also likes to wear his hat backwards -- and he thinks both those things are part of the reason why he's unfairly criticized. 
"Stereotypes, prejudice," Kaepernick told Bleacher Report when asked about the criticism.  "Whatever you want to call it. I think between the tattoos, the way I dress, the way I talk. People don't think it should go together with a franchise quarterback or someone that's leading the team or representing the organization. At the end of the day, you have to look at, 'Are they knowledgeable? Are they doing their job?' Not what their appearance is."
Kaepernick was called out in 2012 by a national writer who didn't believe a franchise quarterback should be inked up. More recently, Kaepernick was called out by a writer in January for wearing his hat backwards. 
The 49ers quarterback has also been criticized for the team-friendly six-year, $126 million extension he signed in June.  
"I think it's a great deal for both sides," Kaepernick said. "The NFL is a performance-based business, so you should have to perform to earn some of your money. At the same time, I realize that my success isn't just because of what I do out there. I have great teammates around me who make plays. The contract allows the organization to keep those players." 
Another person who will be looking for a new contract soon is 49ers coach Jim Harbaugh. Harbaugh's name also came up during the interview. 
If you've ever watched a 49ers game, you may have noticed that Harbaugh can get kind of crazy. Apparently, that's not just something Harbaugh saves for game day.
Kaepernick says that Harbaugh can sometimes be a 'maniac' in the team's quarterback meetings. 
"He's a maniac in there," Kaepernick said of his coach. "Always working, always trying to figure out how to get an edge. Having a head coach that was a quarterback, he sees things from your perspective. If we put combinations together that don't make sense to him, he speaks up -- or if he has ideas that 'this might work,' he's going to say something and that's helped our offense evolve." 
Everything you need to know about the Packers-Panthers game on Sunday afternoon

The Lions will be wearing their Color Rush uniforms for the first time on Thursday

The Lions look to maintain playoff positioning while the Bears attempt to play spoiler
The Panthers have hired an outside law firm to conduct the investigation

Here's every official injury designation for each NFL team for Week 15

Bennett was one of the few players who escaped punishment after Sunday's melee in Jacksonv...