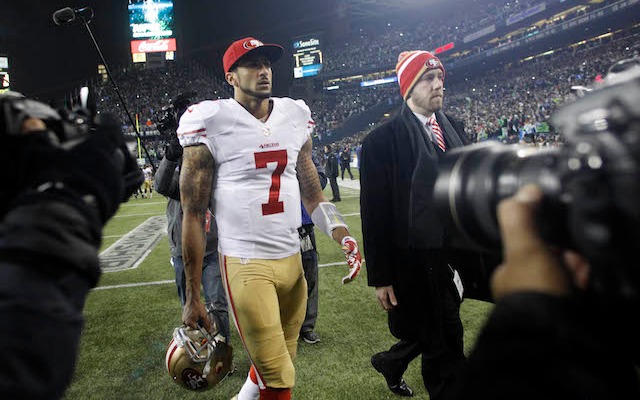 If former Missouri defensive end Michael Sam gets drafted by San Francisco, it sounds like he'll be welcome with open arms in the 49ers locker room -- as long as he helps the team win.
In an interview on Sunday, 49ers quarterback Colin Kaepernick said his team doesn't worry about anyone's skin color, sexual orientation or religious preference as long as the player helps the team win. 
"I think when he steps into that locker room, everyone's going to know that he's there to help us win games," Kaepernick told ESPN. "And that's why you're in the NFL, to help us win games. No one cares if you're black, white, straight, gay, Christian, Jewish, whatever it may be."
Where ever Sam ends up, he just needs to do his job, "When you step on that field, you're a member of [the team]. That's your job. That's your occupation,"  Kaepernick said. 
Kaepernick isn't the only member of the 49ers organization who has publicly spoken about the 2013 SEC Co-Defensive Player of the Year. After Sam publicly announced he was gay on Feb. 9, San Francisco's Trent Baalke was one of several general manager's league-wide who issued a statement in support of Sam. 
"The 49ers commend Michael for the courage he has displayed as he continues to pursue his NFL career. We have and we will continue to evaluate him as we do every draft eligible player, which is always based on their projected contributions to our team on and off the field," Baalke said. 
Sam will find out where he ends up in just under three months when the NFL holds its annual draft May 8-10 in New York City.