Colorado is renaming 53 of its mountain peaks after the Broncos
Peyton Manning, Terrance Knighton, and the rest of the Broncos are getting their own mountain -- for one day, Super Bowl Sunday.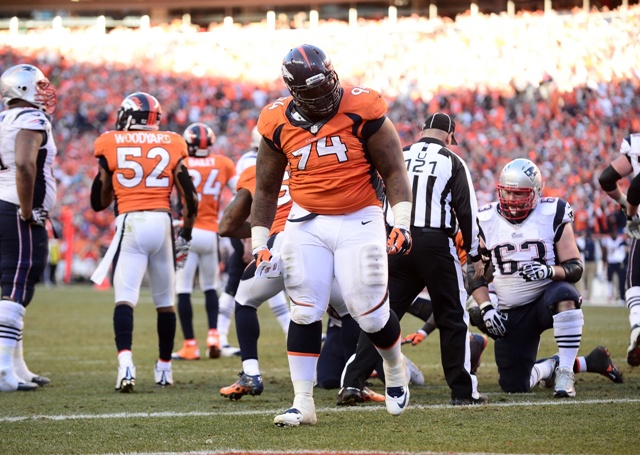 More SB coverage: XLVIII odds | Expert picks | Super Bowl weather | Latest news
The entire state of Colorado is getting behind the Broncos -- even its majestic mountains. The governor says 53 mountain peaks will be renamed after members of the team for Super Bowl Sunday.
Governor John Hickenlooper clearly put a lot of thought behind which mountain to assign to each player.
Peyton Manning obviously earned the tallest peak, Mt. Elbert and appropriately enough, Terrance "Pot Roast" Knighton was given Mt. Massive.
Some more of the best:
Duke Ihenacho

is Castle Peak because "only a duke could vanquish a castle-like offense."
Matt Prater is Long Peak because "he kicks 'em long (set an NFL record with a 64-yard field goal vs. Tennessee)."
Brock Osweiler is Crestone Needle because "at 6 feet, 8 inches', he makes all opponents appear as thin as this 14er."
Mike Adams is Maroon Peak because "he maroons opponents due to his tackling prowess (posted a game-high nine tackles and intercepted a pass that led to a Broncos touchdown in Houston)."
Julius Thomas is Sunshine Peak because "he always makes himself available to find the sunshine through the defenders and make the catch."

Sione Fua

is Mt. Eolus because he has "an eloquent name, like this peak."
You can check out the full list here.
(CBS wink of the eye to ABC News)
The Packers locked arms during the national anthem on Sunday, and will do so again on Thur...

Landry's girlfriend has stated that she was not physically harmed by him in any way

The Eagles rookie kicker's heroics may have cost Wentz nearly $32,000
Timmons was suspended indefinitely after going AWOL during Week 2

Dallas receiver has only 11 catches for 114 yards through three games

Go ahead and doubt Pete -- because this is the week he turns it around with this picks