Colts auctioning off football to be used on kickoff in Broncos game
If you have a spare $500, you can bid on a football that will be used on a kickoff during the Colts-Broncos game on Sunday.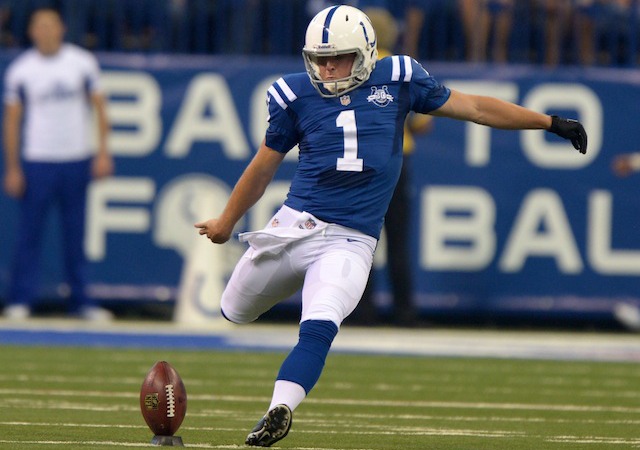 If you have $500 and you want a unique souvenir from Peyton Manning's return to Indianapolis, then the Colts have the perfect item for you: a kickoff ball. That's a football that will be used on a kickoff during Sunday night's game between the Broncos and Colts.
The Colts Pro Shop is holding an auction for the game-used football and you can bid until Monday at 8 p.m. ET. The opening bid is $500. 
Now you might be asking yourself, "Is $500 worth it for a football that Peyton Manning won't even touch because it's a kickoff ball?" 
The answer to that question is yes and no. If the auctioned football is used on the opening kickoff, then it seems like it would be a cooler souvenir than a ball used on a kickoff after a 31-yard field goal in the third quarter of a blowout game. 
Also, we can probably agree that a football kicked off by Indy's Adam Vinatieri would be way cooler to own than a football kicked off by Denver's Matt Prater. Nothing against Prater, but Vinatieri is a kicking legend who might one day have a chance of making it into the Hall-of-Fame. But Vinatieri probably won't touch the ball either because punter Pat McAfee handles kickoffs for the Colts. 
The ball would also probably be worth paying $500 for if the kickoff is returned for a touchdown. Of course, if you want to own an NFL football, but don't want to spend $500, you can always go to Amazon.com and buy one for $59.97, but that one won't have been used in a game. 
As expected, the internet had jokes about the Chick-fil-A at Mercedes-Benz being closed on...

Harrison is the franchise's all-time leading sacker, but J.J. Watt's brother will get the starting...

More than 17 percent of fans say they would never consider dating a Pats fan
Brady said that his lack of speed is why he fell so far in the draft in the first place

If Thomas is right, that means it's bad news for DeShone Kizer's chances of starting early

The NFLPA denied the accusation and fired right back at the league