Colts GM Ryan Grigson compares Andrew Luck to Michael Jordan
Michael Jordan and Andrew Luck have something in common, according to Colts general manager Ryan Grigson.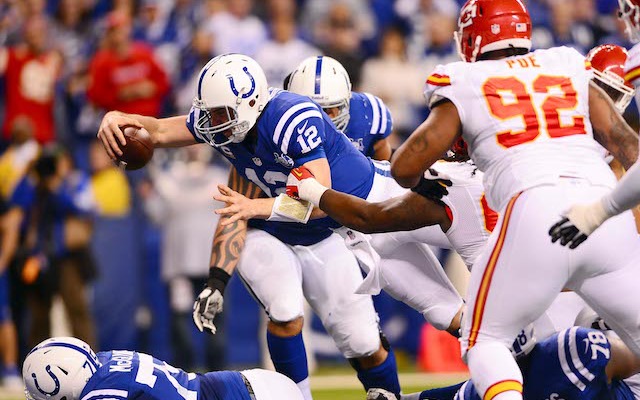 More NFL: Steelers want Big Ben through 2015 and beyond | Playoff Bracket
It's hard to argue against the clutchness of Andrew Luck. The Colts quarterback led one of one of the most improbable second half comebacks in NFL history against Kansas City on Saturday. With the Colts trailing 38-10 in the third quarter, Luck engineered five second half scoring drives to lead Indianapolis to a 45-44 wild-card win. 
The win over the Chiefs marked the 11th fourth quarter comeback of Luck's two-year career. Colts general manager Ryan Grigson has been so impressed with Luck's ability to take over games in the fourth quarter that he compared to Luck to the ultimate fourth quarter player: Michael Jordan. 
"He's always been a different animal in the fourth quarter, his whole life," Grigson said of Luck, via NFL.com. "He relishes those moments. It's like [Michael] Jordan when he'd take that last shot -- he wants the ball. This guy, we're so blessed, he wants the ball in those situations. Other guys don't want the ball; they want to hand it off. They don't really want it -- they're gonna be half-stepping it. This kid is gonna rear back and throw a bomb when he has all the pressure on him. And that's a thing of beauty. You're born with that."
Being compared to Michael Jordan is one thing, but Colts coach Chuck Pagano decided to take the compliments a step further. After watching Luck lead the second-largest postseason comeback in NFL history, Pagano said Luck could end up being the best NFL player ever. 
"There's been some great ones," Pagano said. "But [Luck is] gonna go down as probably one of the best, if not the best, ever to play this game when everything is all said and done. We're very, very fortunate to have No. 12 on our side."
Up next for the Colts is another No. 12: Tom Brady. Luck and Brady actually have something in common besides their number. Through his first 34 starts -- including the playoffs -- Luck has put together a 23-11 record, the same record that Brady had through the first 34 starts of his career. 
Grigson and the Colts are probably hoping that Luck plays 'like Mike' in New England on Saturday night. 
The Ravens quarterback won't be on the field when the team begins training camp

The Chargers might have just found a new backup quarterback

One NFL owner says he'd have 'no hesitation' signing Colin Kaepernick
The Cowboys receiver made a young boy's birthday wish come true

The new Packers tight end had to find a place to sleep after being locked out of his camp...

Lucky Whitehead says he had an awkward face-to-face meeting with Jason Garrett