Colts LB Erik Walden suspended one game for head-butt
Colts linebacker Erik Walden has reportedly been suspended for one game for his head-butt of Titans tight end Delanie Walker on Thursday.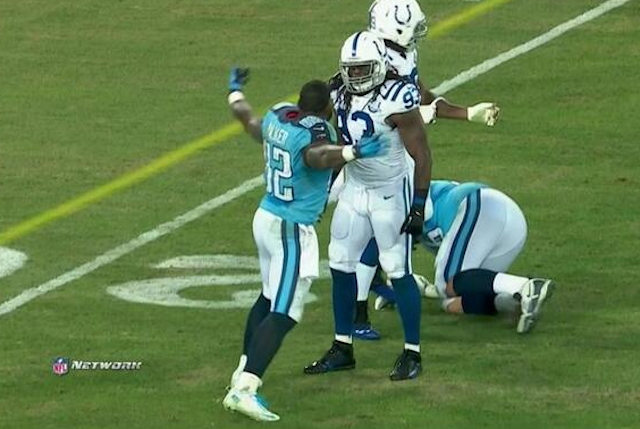 Indianapolis linebacker Erik Walden did one of the most unthinkable things in football on Thursday: with his helmet on, Walden head-butted a player who wasn't wearing a helmet. Thanks to the head-butt, Walden has been suspended for one game, the NFL announced on Monday. 
CBS Sports NFL Insider Jason La Canfora reported on Sunday that Walden would likely be facing a suspension by the league. 
The head-butt happened in the second quarter of the Colts 30-27 win over Tennessee. The head-butt victim, Titans tight end Delanie Walker, thought Walden should have been ejected from the game. 
"I was whupping his butt, that's what happened, and the cat couldn't take it when he was getting whupped," Walker said after the game. "He got frustrated, and he should have been ejected for what he did. That's bush league and that's the type of stuff we don't need in this league."
Walker did admit that he threw a punch on the play, but that was only because he was reacting to Walden's head-butt. 
"I threw a punch at him; I'm not going to lie about that. It's on film," Walker said. "But that was just a reaction. You head butt me in the face because I am beating you? C'mon."
Walden will be able to appeal the one-game suspension, but if it sticks, he'll miss the Colts' game on Sunday against Arizona. However, Walden won't miss a chance to see Walker and the Titans again. Walden's first game back from suspension will be in Week 13 when the Colts host, you guessed it, Tennessee. 
The Oklahoma quarterback isn't exactly being discreet about where he wants to begin his NFL...

No one was hurt, but Fournette's Mercedes lost a bumper

It might be time to begin worrying about the Patriots quarterback
The Patriots are still odds-on favorites, but the other teams are closing in

SportsLine tapped into its Vegas sources to see who professional bettors like Sunday

Philadelphia readies itself for a massive celebration if the Eagles advance to the Super B...