Colts punter fined for tweeting naked photo of Andrew Luck
You can't tweet out a naked picture of your starting quarterback and expect to go unpunished. Just ask Colts punter Pat McAfee.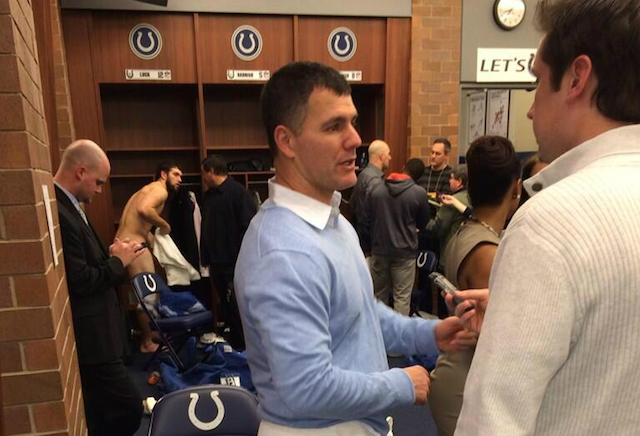 Apparently there are consequences for tweeting out a naked picture of your starting quarterback and Colts punter Pat McAfee found that out the hard way this week. McAfee has been fined an undisclosed amount of money by the team for tweeting out a very risqué photo of Andrew Luck.
You can see the picture above, thankfully there's a guy holding a cell phone so you can't see everything in the picture above. 
"Yeah, I got fined," McAfee said, via the Indianapolis Star. "More than a dollar, less than $3 million, which is good news. But it was completely expected and completely warranted."
After tweeting out the picture to his 170,000 followers on Twitter, McAfee eventually realized Luck wasn't wearing any clothes and he immediately deleted the picture. But this is the Internet, so nothing's ever actually deleted.
"I didn't realize it until I was halfway home and my girlfriend got a text message," McAfee said of when he realized Luck was in his birthday suit. "I immediately started to sweat. I was disgusted. I was worried that Andrew was going to hate me because he's such a good person. The last thing you want to do is sell out a teammate. I felt like I did that."
Fortunately for McAfee, it sounds like he's back on Luck's good side. 
"I called him like 400 times but his phone was off, his phone was off, his phone was off," McAfee said. "It was finally turned on and he answered. I said, 'Man, I am so sorry that happened.' He handled it so well, like the cool person he is. He said, 'No worries about it, dude.' I said, "If it means anything to you, you look good.' "
McAfee probably won't be tweeting any locker room pictures anytime soon, but that's only because he has moved on to more important things like tweeting out new flavors of Cinnamon Toast Crunch. 
"@CTCSquares: It's here! #chocolatetoastcrunch #choc #nom pic.twitter.com/jOn5IsfG9F"~ #GameChanger

— Pat McAfee (@PatMcAfeeShow) January 8, 2014
Cowboys rookie Jourdan Lewis got some good news on Tuesday.

The Ravens might need some help at running back

The Jaguars are making people rich
It looks like Michael Vick is hoping to make the transition from player to coach

The former undrafted free agent is about to get a huge raise

Both Malik Hooker and Andrew Luck are on the PUP list, so maybe it's time to start worryin...