Colts QB Matt Hasselbeck will retire after 2014 season
Indianapolis backup quarterback Matt Hasselbeck said he'll be retiring after his two-year contract with the Colts runs out following the 2014 season.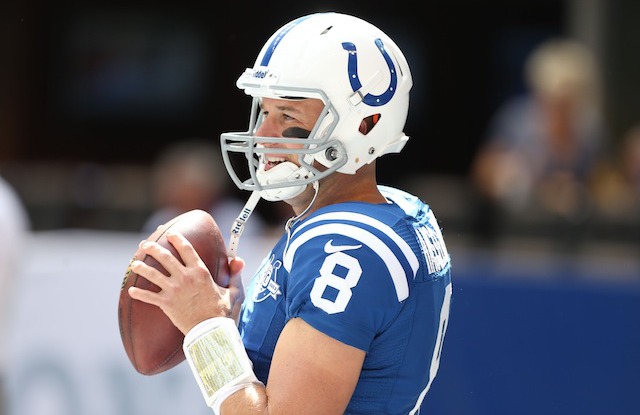 Colts backup quarterback Matt Hasselbeck will play one more season and then hang up his cleats for good. Hasselbeck told FoxSports.com that he plans to retire after the 2014 season. Hasselbeck signed a two-year contract with the Colts in March of 2013 that runs through the 2014 season.
"I'd like to do one more year than call it a career," Hasselbeck said. "I'm hoping for a good year this year and next. That's why I'm excited to be here rather than some other place. I feel good about our chances and the team we have. And I believe in Andrew (Luck)."
Barring an injury to Luck, Hasselbeck probably won't be starting any games this season or next, but he has started over 150 in his 15-year career. The 38-year-old started his NFL career backing up Brett Favre in Green Bay after the Packers selected him in the sixth round out of Boston College in the 1998 NFL Draft. 
After two years playing behind Favre, Hasselbeck was traded to Seattle, where he spent most of his career. In 10 seasons as the Seahawks starting quarterback, Hasselbeck led Seattle to the playoffs six times, including five straight times from 2003 to 2007. 
Hasselbeck's time in Seattle includes a Super Bowl appearance in 2005, when the 13-3 Seahawks lost to the Steelers in Super Bowl XL.
Besides the Super Bowl, Hasselbeck's probably most remembered for a 2003 playoff game against his former team. Playing against the Packers in the Wild Card, Hasslbeck infamously said "We want the ball and we're going to score" after the Seahawks won the coin toss in overtime. Hasselbeck ended up throwing a pick-six and the Seahawks lost. 
Hasselbeck has thrown for 34,554 yards in his career, the 21st highest total in NFL history.  
The Green Bay Packers quarterback seems to be a go for the Carolina Panthers game

Shazier's season might be over, but he still wants to help his team

The young head coach took the blame after a heartbreaking loss to the Eagles
Our computer model simulated every Week 15 NFL game 10,000 times with very surprising resu...

Britt is going from the worst team in football to a Super Bowl contender

With three weeks to go in the regular season, the MVP race is wide open