Colts TE Coby Fleener fakes dunk over crossbar after TD
Dunking over the crossbar can be expensive, so Colts tight end Coby Fleener did something that won't get him fined: He fake dunked it.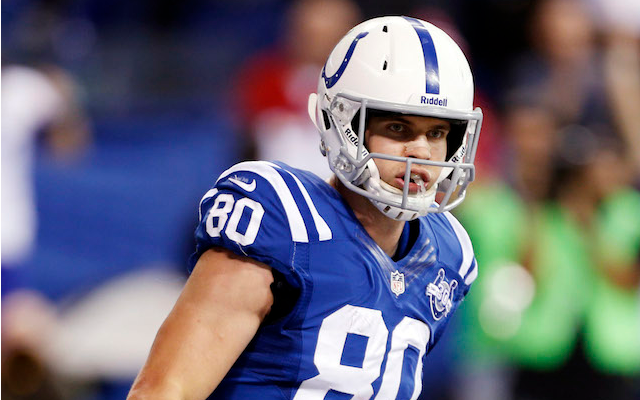 Dunking over the crossbar isn't allowed in the NFL anymore, so Coby Fleener did something slightly different on Saturday: He fake dunked over the crossbar. 
After catching a 21-yard touchdown pass from Andrew Luck, Fleener walked up to the crossbar like he was going to dunk it. The ref then stared Fleener down, as if he was daring Fleener to dunk it. 
THEN BLUE THE COLTS MASCOT runs over, as if to say, "Don't do it Coby! Don't get fined for a dunk! We could use that money on oats and hay or a new costume for me!"
In the end, Fleener offered a pump-fake and didn't dunk it, so he won't have to worry about getting a $30,000 fine like Jimmy Graham did for his two touchdown celebrations last week. 
Everything you need to know about Week 14 of 'Monday Night Football'

SportsLine either really believes in Nick Foles or the team around him

Meanwhile, one of Bortles' teammates compared him to Tom Brady
Here's an early look at the lines for all NFL games being played in Week 15

Ryan Shazier was able to take part in the Steelers' postgame celebration thanks to FaceTim...

There is suddenly a wide open NFC playoff race and the MVP battle could get interesting to...