Colts TE Coby Fleener fakes dunk over crossbar after TD
Dunking over the crossbar can be expensive, so Colts tight end Coby Fleener did something that won't get him fined: He fake dunked it.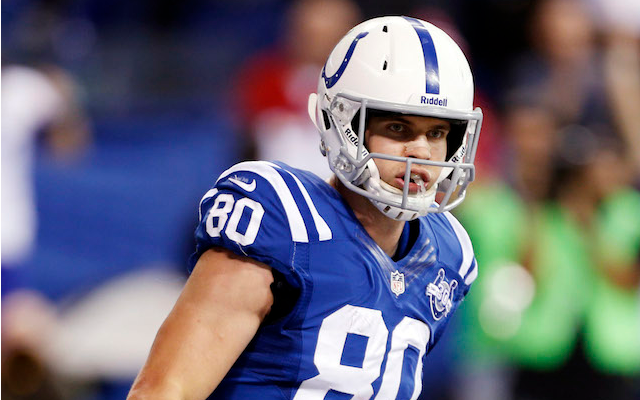 Dunking over the crossbar isn't allowed in the NFL anymore, so Coby Fleener did something slightly different on Saturday: He fake dunked over the crossbar. 
After catching a 21-yard touchdown pass from Andrew Luck, Fleener walked up to the crossbar like he was going to dunk it. The ref then stared Fleener down, as if he was daring Fleener to dunk it. 
THEN BLUE THE COLTS MASCOT runs over, as if to say, "Don't do it Coby! Don't get fined for a dunk! We could use that money on oats and hay or a new costume for me!"
In the end, Fleener offered a pump-fake and didn't dunk it, so he won't have to worry about getting a $30,000 fine like Jimmy Graham did for his two touchdown celebrations last week. 
Jonathan Martin is facing some serious charges after being involved in an incident in Febr...

Rob Gronkowski definitely knows how to celebrate St. Patrick's Day

The Chargers just beefed up their offensive line with the former Dolphin
After Gang Green's aggressive trade up with the Colts, the quarterbacks fly off the board...

Introduced to Philadelphia media, the new Eagles defensive end says he's ready to go post-...

Gotham Chopra just spent a year with Brady and doesn't think the QB will be playing much l...