Colts trade for Trent Richardson is a bold, but bad, move
The Colts traded a 2014 first-round pick for Browns running back Trent Richardson and his career per-carry average of 3.5 per rush. That's a big move and a risky one.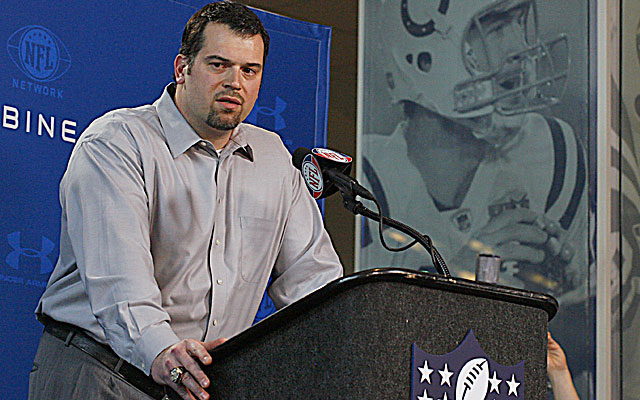 I have great respect for Indianapolis Colts general manager Ryan Grigson. He isn't one to back down from his beliefs and he's more than willing to tell you when he doesn't agree with something you wrote. I like that.
So now I am giving it back to him: I hate the trade for Browns running back Trent Richardson.
The Colts are giving up a 2014 first-round pick to trade for a back who has had some injury history in a league where backs have been greatly devalued. I know they lost Vick Ballard, and Ahmad Bradshaw isn't the long-term answer, but Richardson hasn't shown to be worth it either. His 17-game per-carry average is 3.5.
So far this season he has 105 yards on 31 carries, for a whopping 3.1 average. The Cleveland line hasn't been good, and the passing game is ordinary at best, but this was supposed to be a top-tier back. That hasn't been the case.
I watched the Browns-Ravens tape Tuesday because I wanted to see what was wrong with the offense and to see how the Ravens bounced back from that debacle at Denver.  I watched all of Richardson's runs. What I saw were several plays where he took a pitch or a handoff and was dumped for a loss with a man immediately in his face. His best runs came on quick tosses to get him outside.
Richardson's runs inside were less than impressive. There were a handful of times where he had cutback lanes and he picked the wrong one or kept going to the play side for a small gain. I was unimpressed.
When the Browns drafted him in 2012, I wrote then it was a mistake, not because he lacked talent but because he's a running back and they don't decide titles anymore. They are complementary pieces.
The Colts are trying to build their running game up, so I understand the move from their point of view. Chuck Pagano and offensive coordinator Pep Hamilton are big proponents of the running game. Hamilton told me at camp how he planned to run it more this season, his first with the team. Hopefully not too much, I told him, this is Andrew Luck's team. But the Colts coaches thought Luck took way too many shots last season because they didn't run it well enough and he's taken his fair share so far in 2013.
Is Richardson the guy to change that? Not if the offensive line doesn't play better. How much better is Richardson than a healthy Bradshaw? Better for sure, but not nearly enough for my liking.
I get that Richardson is 22. I see the ability and the amazing stuff he did in college. But I don't see the value. Not in this league. Not the way the game is played. Runners don't decide it anymore.
So I am saying it now: I hate this trade for the Colts.
Six months from now, I am sure Grigson will let me know how wrong I am if Richardson is what the Colts think he can become. But I have my doubts. 
Here are 10 things to watch in Week 15, including a hot Bortles, a cold Brady and a new Eagles...

A couple of potential playoff teams have trouble covering against cellar dwellers in Week...

Siemian said he knew the injury was serious as soon as it happened
After an injury to Trevor Siemian, Brock Osweiler entered the game and helped the Broncos to...

The 32-year-old running back is done for the year

Brandon Williams was involved in a scary situation in the first half against Denver