Colts will honor Peyton Manning's return to Indianapolis in Week 7
Broncos quarterback Peyton Manning will be honored by the Colts in Week 7 when he makes his first return to Indianapolis as an opposing player.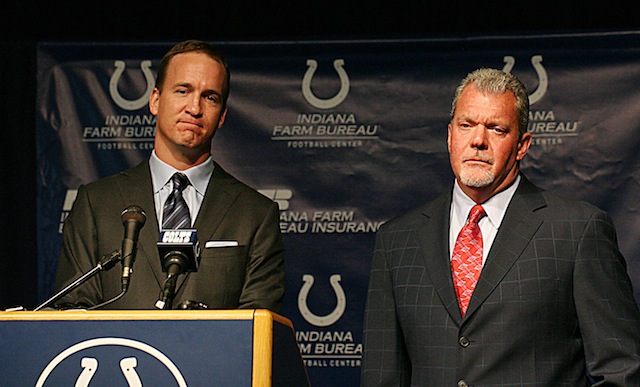 It's not often that an NFL team honors an opposing player during a home game, but then again, it's not often there's a situation like the one involving the Indianapolis Colts and Peyton Manning.
In March 2012, Colts owner Jim Irsay decided it would be in the best interests of the team to cut Manning and start over with eventual No. 1 overall pick Andrew Luck. Week 7 will mark the first time the Broncos quarterback has played in Indianapolis since being released by the Colts. 
"We're going to have a great tribute to him," Irsay said, via USA Today. "It's going to be something where you go into it wanting to have a lot of fun, where you love Peyton as a Colt fan, but now we're competing against him."
Irsay didn't go into specifics about what the tribute would be, but you have to imagine, he'll have something special planned for the the quarterback that holds almost every Colts passing record. 
When Manning was released by Indianapolis, one of the most memorable scenes from the press conference was seeing both Irsay and Manning fight back tears, "This has not been easy for Jim, and this has certainly not been easy for me," Manning said in 2012. "I'll always be a Colt. That will never change."
For Colts fans, it will give them a chance to give Manning the good-bye he never really got in Indy, "With Manning, it was hard because I felt like we got no closure with him," Colts season-ticket holder John Flatt said, via USA Today. "No one knew after that 2010 playoff game (against the New York Jets) that was going to be the last game he would play with the Colts."
Manning was in Indianapolis from 1998-2011 and led the Colts to the playoffs 11 times in 13 seasons as the team's starter. Manning also led Indianapolis to Super Bowls, including a 29-17 Super Bowl XL win over the Chicago Bears.  
R.J. White, who nearly won the Las Vegas SuperContest, locks in his pick for the NFC Championship...

Mike Tierney has owned NFL totals and has a strong pick for the AFC Championship Game

The Saints coach wasn't in the mood to answer questions about Drew Brees on Tuesday
This is footage that you'll definitely want to see

It wasn't the matchup that we expected, but the Jaguars would argue that's everyone else's...

The Eagles quarterback and the Vikings quarterback have paths that have crossed many times