Comedy team leads Browns coaching search, is not leaving 'em laughing
The Browns, through firing Rob Chudzinski and their subsequent bumbling search for a coach, have become a joke -- more sad than humorous -- for a city that deserves better.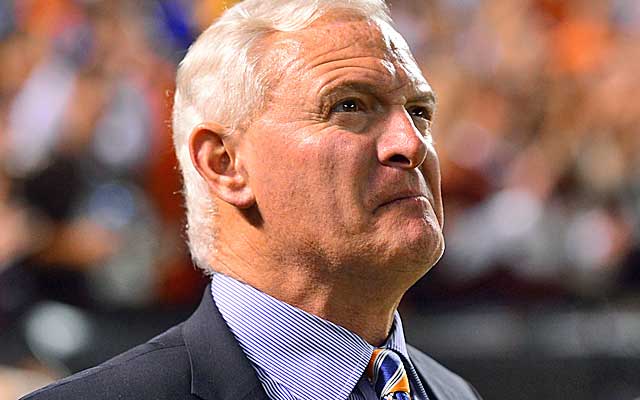 More on Browns: Broncos' Gase pulls name out | Fujita: players 'embarrassed'
The thing is, people were laughing at the Cleveland Browns 3 1/2 weeks ago when they fired Rob Chudzinski. So don't take this column -- the Cleveland Browns are a joke, is my point -- as hindsight. This was foresight by pretty much everybody on Dec. 29 when the same front office that hired Rob Chudzinski on Jan. 10 fired him less than 12 months later.
Here we are, almost a month after that, and the Browns still don't have a replacement. It's not because they're being selective or patient. It's because nobody wants to work for them. Three candidates, presumably the Browns' top three candidates -- though this being the Browns, it's possible Lane Kiffin was and still is their top candidate -- have withdrawn from the search.
Normally when that happens, when a serious candidate pulls out his name, it's because the candidate knows he's not going to get the job. In this case, it appears the candidates withdrew for the opposite reason:
They were afraid they'd get the damn thing.
How badly is the Browns franchise viewed around the NFL? This badly: Broncos offensive coordinator Adam Gase and Cardinals defensive coordinator Todd Bowles, both looking for their first permanent head coaching position, pulled out of the process before the Browns could do something awkward and offer them the job. So did Patriots offensive coordinator Josh McDaniels, who has been a head coach before but not a terribly good one in Denver. A fourth candidate, Packers quarterbacks coach Ben McAdoo, didn't wait to hear from the Browns about becoming their head coach before accepting a lesser job -- offensive coordinator with the New York Giants.
Maybe offensive coordinator of the New York Giants isn't a lesser job than head coach of the Cleveland Browns.
This is what's known as the chickens coming home to roost. The Browns have been the Browns for so long, it has caught up to them in the form of a head coaching job in the NFL -- one of the most coveted positions in US sports -- that they can't fill.
Owner Jimmy Haslam's truck-stop company, Pilot Flying J, is being investigated for fraud by the IRS -- and the FBI. President Joe Banner and general manager Mike Lombardi are running the day-to-day operations of the franchise, and doing such a fine job at it that they couldn't convince a college head coach desperate to go to the NFL, Chip Kelly a year ago, to take their job. Kelly went to the Eagles. The Browns turned to Chudzinski, gave him bad quarterbacks and worse running backs, and then fired him because he couldn't turn that plate of chicken s--- into chicken salad.
The Chudzinski firing was so absurd, an NBA writer in Houston summed it up on Twitter in 13 words: "Was asked to win games with Weeden, Campbell and Hoyer. Given one season."
That's the tweet that I remember clearly from Dec. 30, but there were more. The Cleveland Plain Dealer surveyed the NFL community after the firing of Chudzinski. Survey says: Hahaha Browns!
As a city, Cleveland deserves better. What Cleveland is getting on social media is a mocking laughter, as if this is Cleveland's fault. Not going to show you the tweets because why give free publicity to mean-spirited folks, but lots of readers have tweeted me to say something along the lines of, "Nobody wants to work in a city like Cleveland." And that's not what this is. That's not even close. First, Cleveland is a fine place to live if you're a head coach in the NFL. Maybe it's hard on the shrinking middle class and harder still on those trying to get out of poverty, but look around -- that's not Cleveland. That's America. Is it cold in Cleveland? Sure. It's cold in Buffalo and Green Bay and Minnesota and Pittsburgh, too.
What's different about Cleveland isn't the economy or the weather -- it's the people running the Browns, people doing it so badly that Adam Gase and Todd Bowles and Josh McDaniels would rather not be a head coach this year if being a head coach means doing it for the Browns. Ben McAdoo would rather coordinate a Giants offense led by a 33-year-old quarterback (Eli Manning) coming off his worst season than wait for the Browns to make a decision.
The Browns are said to be close to hiring somebody, anybody, perhaps Bills defensive coordinator Mike Pettine, whose defense in Buffalo was so effective that it finished 20th in the NFL this season in points allowed. Maybe it'll be Seahawks defensive coordinator Dan Quinn. Or Falcons offensive coordinator Dirk Koetter.
Former Browns player Scott Fujita says friends on the team were "deflated, confused and frankly embarrassed" by the Chudzinski firing, and said Joe Banner "does not have the best reputation with some players and coaches."
"It makes you wonder," Fujita said.
Sure does. Makes me wonder if that TV reporter in Cleveland was onto something on Dec. 30 when he asked Haslam, "Can you assure the fans that you don't have the three stooges running this operation?"
Here's an up-to-date look at the 2018 Pro Bowl roster

New England is 3-0 wearing white in Super Bowls under Bill Belichick

Bettors are favoring the Eagles to keep Super Bowl LII close, but the Patriots remain clear...
No one wants to give the Eagles any respect

The three-time Grammy winner will sing before Super Bowl LII on Feb. 4

Here's a look at the NFL's entire postseason schedule for 2018