Coordinators for head coach jobs? It's a shallow pool in the NFL
Seattle's Darrell Bevell is expected to garner interest, but the picking are slim among the coordinator ranks around the league, Jason La Canfora reports.
• 2 min read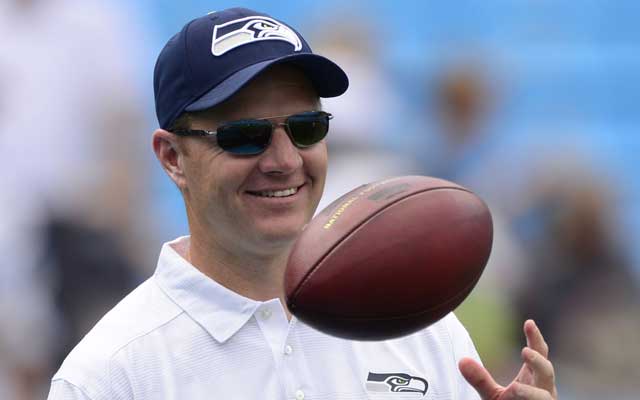 For more news and notes from Jason La Canfora, tune into The NFL Today Sunday at noon ET on CBS.
After weeks of talking to execs, coaches and powerful coaching agents about the field of candidates for head coaching jobs in the NFL, from the pro and college ranks, there appears to be a relatively short list. Some wonder if there are enough proven candidates to fill the list of, say, eight openings, if the number of fired coaches reaches that high, while some coaches flying under the radar could end up nabbing positions in the end.
Bengals offensive coordinator Jay Gruden and Seattle offensive coordinator Darrell Bevell have been approached for interviews in the past, and, with several teams looking to either fix current quarterbacks or find new quarterbacks (Detroit, Minnesota, Washington among them), they are expected to garner interest again this year, particularly if they achieve some playoff success. Carolina defensive coordinator Sean McDermott, who has led a dominant unit and has shined since being something of a scapegoat in Philadelphia, is also well positioned to land interviews, NFL sources believe. San Francisco offensive coordinator Greg Roman is the focus of much speculation regarding a possible job, but league sources say that 49ers defensive line coach Jim Tomsula, a former interim head coach of that team, is also though of highly by other teams.
Former Arizona head coach Ken Whisenhunt interviewed for several jobs a year ago and his work as San Diego's offensive coordinator has only helped his cause. I'd be shocked if he didn't end up a head coach again this offseason. Former Bears coach Lovie Smith already interviewed with the Texans and will be approached by several other teams, and could end up getting a job (some have identified Tampa as a suitor). Penn State head coach Bill O'Brien is also more than ready to jump back to the NFL, and he will interview for several positions and could land one.  Browns defensive coordinator Ray Horton has been seen as a rising star in recent years, though Cleveland's poor second half could work against him, while Saints offensive coordinator Pete Carmichael, Jr. will likely land an interview or two, and Texans quarterbacks coach Karl Dorrell, who has worked well with Ryan Tannehill, has college head coaching experience and is highly thought of in the NFL office, sources said.
Dolphins offensive coordinator Mike Sherman also has abundant head coaching experience at the pro and college level. Former Ravens Super Bowl winning coach Brian Billick interviewed for the Eagles job a year ago and remains interested in a return to the sidelines under the right circumstances, sources said.
The future Hall of Fame kicker will be back in the saddle for another year with Indianapol...

As it turns out, finding an immediate impact first-round wide receiver is a lot harder than...

March 14 is coming up pretty quickly and the Saints have to hurry up and sign Drew Brees
Buffalo moves up to the No. 5 pick to land their franchise quarterback

With big performances at the combine, these prospects will shoot up draft boards

Trubisky's rookie-year film is impressive, showcasing a quarterback who holds all the qualities...