Cover 3: What NFL scouts think of Peppers
Plus, why P.J. Fleck is such a hot coaching candidate and how one school got a lot better with a Florida infusion.
• 5 min read

Update
Here's the latest installment of Cover 3 — my weekly take on all things college football.
1. P.J. Fleck is ready for the big stage
Outside of Tom Herman, Fleck is the new hottest name in coaching searches and he deserves to be. The string of clichés, slogans and coach-speak that comes out of Fleck can border on obnoxious but the dismissive chuckles from opposing coaches is quickly turning into awe and admiration.
The word from college coaches that have played Fleck's Western Michigan team is that it looks like an ACC squad. The bodies and athletes that Fleck is trotting off the bus for warmups are unlike anything the MAC is used it. The Broncos aren't tricking teams with some gimmick offense. They aren't scrapping out gritty performances. They're steamrolling opponents.
Fleck understands that it's about the Jimmys and Joes. Nick Saban's current Alabama dynasty is founded on No. 1 recruiting classes and that's what Fleck's rise is built on as well. For three straight seasons, Fleck has landed the No. 1 ranked recruiting class in the MAC. He's well on his way to landing his fourth in 2017.
Those rankings are important because it means that not only has Fleck been landing highly-regarded players – often beating higher profile programs in the process – but that he's developing them as well.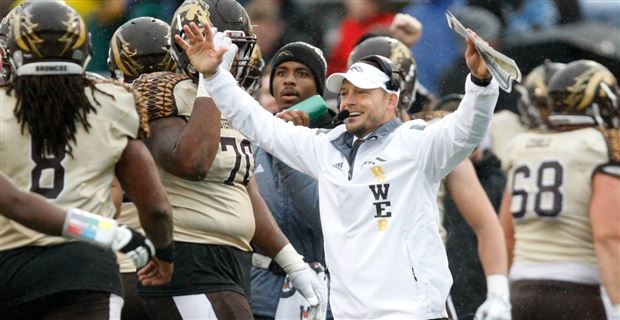 Western Michigan's approach in recruiting is to lock up good players early in the process and then hang on to them as the big-name programs start to come in late. Look at 2017 for example. Fleck's Broncos have 24 commits in the fold who have all been committed since the summer. They have one decommitment in 2017 and none in 2016.
That tells me that Fleck's staff is full of outstanding evaluators for identifying talent early and relentless recruiters by landing them and keeping them committed.
So he can identify talent, he can recruit talent and he can develop talent. He can also coach talent.
Not only is Western Michigan putting up big offensive numbers and holding defenses in check but it's doing it in a disciplined manner. The Broncos lead the nation with only one turnover on the season.
Western Michigan's 7-0 start to the 2016 season with two Big Ten wins is impressive but the trendline in Kalamazoo under Fleck has been so steady that it's not surprising. Let's remember that in Fleck's first year, he went 1-11. Two 8-5 bowl seasons later and he's staring at a potential undefeated season.
There are some big jobs that will be opening up this year and there aren't a lot of clear cut candidates to fill those jobs. Fleck's mantra at Western Michigan of "Row the Boat" used to be a call to arms for some Tuesday night MACtion. It's about to get woven into the fabric of somebody's rich college football tradition because whether the college football world is ready or not, Fleck is about to hit the big stage.
2. SEC speed in Wisconsin
It's hard not to be impressed with what Wisconsin has done this season. Deservedly still in the Top 10 despite two losses to top-3 teams, the Badgers have one of the best defenses in college football.
As is typical for Wisconsin defenses, there's a healthy weight of former walk-ons and homegrown talent. But on the back-end of that defense, where speed, athleticism and a short memory are all critical, the Badgers still lean on some SEC rejects from Florida.
Wisconsin's tough, physical, active front seven is built on five starters who grew up in Wisconsin. The back-end, though, is three quarters Floridian.
Sojourn Shelton is a Florida State decommit from Fort Lauderdale that wasn't a priority to the big name Southeastern programs. At 5-foot-9, he was easy to overlook but he came up to Madison ready to compete and he was a 247Sports True Freshman All-American.
Derrick Tindal was another Fort Lauderdale kid that only had offers from MAC and mid-level ACC schools but he's also been an instant contributor. Safety D'Cota Dixon out of New Smyrna Beach in Florida also had an offer from Michigan State – a school that knows a thing or two about finding talent – but limited SEC and ACC options.
I remember Shelton and Tindal well in high school. They were furious competitors. All three were relatively undersized. They're now all central figures in one of the best defenses in college football. That Florida fight is doing very well for Wisconsin.
3. Peppers is no NFL tweener
He may not go No. 1, he may not go top 10, but Michigan's Jabrill Peppers will be the safest pick in the 2017 NFL Draft.
I talked with one NFL scout recently that expressed some concerns about how Peppers projects on the next level. As a linebacker, he's a tweener and undersized. He's rarely played a classic safety position at Michigan. At either safety or outside linebacker, he's not in a high-value position like edge rusher, quarterback or offensive tackle. Let's not forget he was a cornerback prospect in high school. But he just might be the best pure football player in the country and that counts for something.
In Wednesday's midseason release of the 247Sports College Football Top247, Peppers ranks as the No. 2 player overall. Steve Wiltfong predicted he'd be a Heisman finalist before the season. He's probably running second in most Heisman straw polls at the mid-point in the season. But what about that NFL projection?
As a linebacker, he's like Deone Bucannon of the Arizona Cardinals. Bucannon was a hard-hitting safety at Washington State before excelling in a hybrid role in the NFL. But Peppers is more athletic than Bucannon and he doesn't have to be a tweener linebacker. He's one of the most explosive punt-returners in the country and a dangerous threat out of the slot when he's on offense. As a full-time safety, he'd be a disruptive force in the NFL.
Beyond all that, Peppers is a football junkie. His ability to play so many positions for Michigan speaks to his ability to absorb scheme and coaching effortlessly. He's a great locker room presence.
I don't know that there's a player in college football – save Myles Garrett - that I can say with more certainty that he will have a long NFL career than Peppers. So is he the best player in the draft? Maybe not, but he's going to make somebody's team much better.
Barton Simmons is a College Football Insider and the Director of Scouting for 247Sports. Simmons made the All-Ivy team twice as a four-year starter at safety for the Yale Bulldogs from 2000-04. He resides in Nashville.
Good night, sweet Cowboys, it was a good run

Time to keep the hot streak going

Everything you need to know heading into Sunday of Week 12 of the 2017 NFL season
Pete Prisco shares 10 interesting things to watch in Week 12 of the NFL season

The 3-7 Broncos are not in a good place right now

This young fan wins Thanksgiving