Cowboys camp observations
A healthy Sean Lee is good news for Dallas' offense, and the offense is responding well to coordinator Bill Callahan's expanded role as play caller.
• 5 min read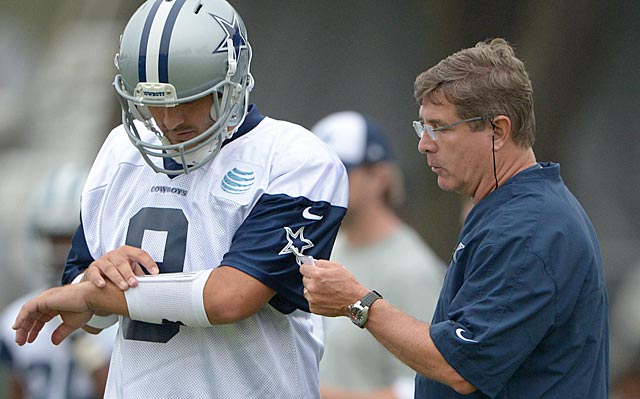 Observations from Cowboys camp:
OXNARD, Calif. -- The return of linebacker Sean Lee cannot be understated. He is the heart and soul of this defense. His presence, side-to-side playmaking and mental acumen make the entire unit better and he already looks well ahead of pace in his comeback from season-ending knee surgery.
In fact, it has already reached a point where coach Jason Garrett has to hold him back and urge him to take it a little easy on his teammates. Lee's zeal for the game sometimes leads to more contact than would be ideal in these early dog days of camp, but just seeing him on the field has clearly bolstered this group.
Garrett compared Lee's passion for playing hard in practice -- occasionally too hard -- to that of longtime Cowboys tough guy Bill Bates -- but wants Lee to tone it down a bit at times.
"You have to constantly teach them how to practice, but you love that nature that they have," Garrett said.
Surprisingly, at least to me, sources said the Cowboys haven't made any approaches about getting his deal extended. I get that he's coming off an injury, but this cat looks to be back with a vengeance, and he's so central to them changing their leadership culture and getting the players to a level of consistency and accountability that has been lacking in their interpersonal dynamics at times here.
He is set to make only $630,000 in this, the final year of his deal, and with Anthony Spencer likely headed for a departure next season, this is a case where being proactive with Lee makes entirely too much sense. If he is back healthy, his price is only going to go up.
•  The more players I chat with casually, the more I believe handing over play-calling duties to offensive coordinator Bill Callahan will prove to be one of the most positive changes the Cowboys have made, and part of the reason I have been more bullish on Dallas' prospects than most in 2013.
Let's face it, quarterback Tony Romo has tended to wilt at some critical times in games, and in the biggest games in general, and that's when many of Garrett's own issues emerge, as well. Having those two voices being the primary offensive decisions makers in crunch time hasn't exactly been seamless.
Garrett's issues with clock management, timeouts, decisions involving fourth downs and the kicking game have proved challenging enough. Having to call the plays with all of that swirling around can be stifling. Callahan has oodles of experience with it himself; he's done the head-coach thing and the player response seems very positive.
"This isn't new for Bill. He can handle it. I think it's a good thing," one veteran player said. "It will be good for Tony. Another fresh set of eyes seeing the game and making those calls."
I like it, too, and if the Cowboys are just a little bit better late in games, in what I expect to be a fairly pedestrian NFC East, that can be the difference between missing the postseason and winning a division title.
•  Perhaps it has become cliché to say this, but, being in humidity-free Oxnard on a perfectly quasi-cloudy day with temps in the low 70s, I do kind of buy into the idea that this is a little too comfortable for the players. It's not like the Residence Inn here is a spa or anything, but the country-club vibe also isn't entirely that far off.
The heat is surely oppressive and all in Dallas, but I wonder if this goes a little too far in the opposite direction. Jerry Jones will go to great length to compensate and care for his players, but I've long thought things are just a little too comfortable for the Cowboys in general. This locale lends itself to such thought. The CBA has already eliminated so much of the burden of what camp used to be in the first place.
•  The Cowboys have to be a more productive team turning over the football and this new defensive staff is harping on that point. They tied for 26th in the NFL last year in points off turnovers, with 55, and their paltry 16 total takeaways tied for 28th.
New defensive line coach Rod Marinelli, a former head coach and defensive coordinator who can be as hard-nosed as they come, is harping on that to his charges. "We have to emphasize it every day," Marinelli said. These things tend to be cyclical; expect a bounce back from Dallas in that regard in 2013 -- another factor that can be the difference between a title or watching the playoffs on TV.
•  The Cowboys do not, to me, have anyone on this current roster who can truly fill the void of Anthony Spencer, who is sitting out with his unsigned franchise tender, which explains why they were bringing in veteran defensive linemen for workouts today before practice. But, for now, Spencer's absence has been a boon for second-year defensive end Ben Bass. Bass is running with the starters, and, though he has been shifted to defensive end more quickly than Marinelli admits he expected, the 6-5 over-achiever, who barely played college football and was signed late as an undrafted free agent in 2012, is at least proving worthy of a longer look.
"It's injury and opportunity," Garrett said about the rise of Bass. "Bass has done a really good job for us. He's an instinctive player. He has a little bit of a knack for making plays both in the run game and affecting the quarterback. He, like a lot of guys, is getting stronger and I think you're seeing that, too. So we want to give these guys a chance."
Bass came in during a minicamp a year ago with no expectations and beat others out for a chance to stick around Dallas. "He's worked very hard in this offseason," Garrett said of the Texas A&M product. So Bass was the story of the day on Tuesday, but it remains to be seen if he's being talked about as glowingly come September.
Spencer probably won't be around until just before the start of the season, and defensive tackle Jay Ratliff is likely out at least a few more weeks recovering from a hamstring issue and last year's season-ending surgery. That means more reps for youngsters, but let's not kid ourselves; if this team is going to prosper, Ratliff and Spencer will have to be a big part of it.
Check out the uniforms that Kansas City and Oakland will be wearing on Thursday

Cliff Avril's NFL career might be over

Oct. 18 is a very special day in NFL lore
The Falcons should not be making any plans for Minnesota in February

The Colts star quarterback could end up missing the entire 2017 season

Not even two Super Bowl wins is enough to get Eli Manning any respect