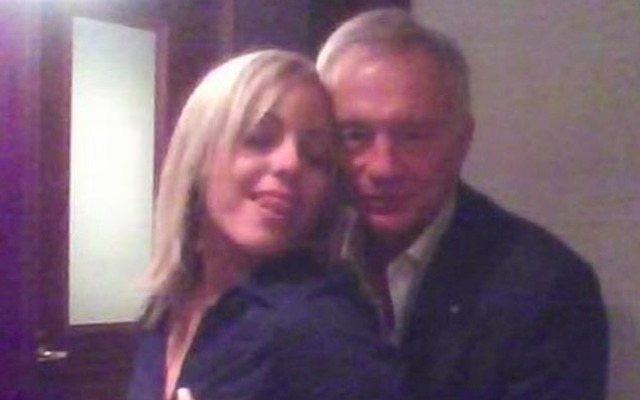 More NFL: Photos |  Videos & GIFs |  Training Camp updates | Manziel watch
Jerry Jones couldn't avoid the media forever. The Cowboys owner has been relatively silent since Aug. 5, when racy photos of him hit the internet. However, Jones broke that silence on Sunday and briefly talked about the leaked images that showed him in suggestive positions with two women. 
The Twitter user who published the photos online said the pictures were part of an extortion plot. Jones didn't use the word extortion when talking about the photos, but he did say he was 'misrepresented.' 
"Someone has misrepresented photos taken at a restaurant five years ago for their own purposes," Jones said, via the Dallas Morning News. "I'm just not going to comment on it."
The Cowboys owner was then asked what exactly in the photos was misrepresented. 
"Again, thats all I'll like to get into," Jones said.
Although the photos were taken five years ago, they weren't released online until Aug. 3, when a man named Frank Hoover tweeted them out. The pictures languished on Twitter for two days before the media caught wind of them on Aug. 5 and after that, the pictures were everywhere.
Jones, who's married, was asked if he had any idea why someone might have leaked the photos now. "I really don't have any more comment than what I've made," Jones said. "I said that."
Jones also didn't have much to say when asked if authorities were now handling the matter. "I don't have any more comment about that," Jones said.
Although it's unclear if authorities are involved, Hoover did delete the pictures from his Twitter page less than a week after posting them -- but since this is the internet, they'll exist forever. Hoover also deleted the 20-page manifesto he wrote that described the extortion plot against Jones. 
In the manifesto, Hoover said that he acquired the pictures in June 2011 and tried to contact Jones several times about the photos, with the most recent attempted contact coming in October 2013. 
The two women in the photos -- which you can see here and here -- are both strippers. In an interview with TMZ, the women said that they've both hired lawyers and that they don't really remember the night because 'there was a lot of alcohol involved.'
The women also claim that they had no idea the pictures were being taken -- even though they seem to be looking at the camera in each shot. According to the two women, a third female friend took the pictures without anyone's knowledge. The two women also mentioned that they didn't know anything about an attempted extortion plot.