Cowboys meet with QB prospect; Tony Romo to have shoulder surgery
Tony Romo is having shoulder surgery and the Cowboys are meeting with Paxton Lynch.
Here's an interesting juxtaposition of NFL news stories: The Cowboys spent Friday night meeting with a quarterback prospect and Saturday Tony Romo told the world he's going to have shoulder surgery.
These two things are not mutually exclusive. Romo is old (about to turn 36), has dealt with serious injuries the past few seasons and the Cowboys are holding a high draft pick with multiple options at quarterback on the board.
First the Romo news, because he is the quarterback for 2016, the face of the franchise and Jerry Jones' hope to bring a Super Bowl to Dallas.
He confirmed he'll have surgery and is getting a plate put in his shoulder, something he called "preventative" at a Legoland event Saturday. 
"We're just going to do it for preventative," Romo said. "As far as the way I feel, I feel good. We just want to make sure that obviously it doesn't happen again, so we'll probably just put a plate on it and go from there."
The preventative part is supposed to keep Romo safe if he takes a shot (which he has routinely taken) from a defender. 
"Putting a plate on it ... really you're just doing it to ensure next year when you take a hit," Romo continued. "If I can do something that helps me to ensure that the bone doesn't break next time, I think that's good for everybody. It's a small procedure; it's not very big."
Romo will probably miss some offseason activities but having surgery in March isn't going to prevent him from starting the season.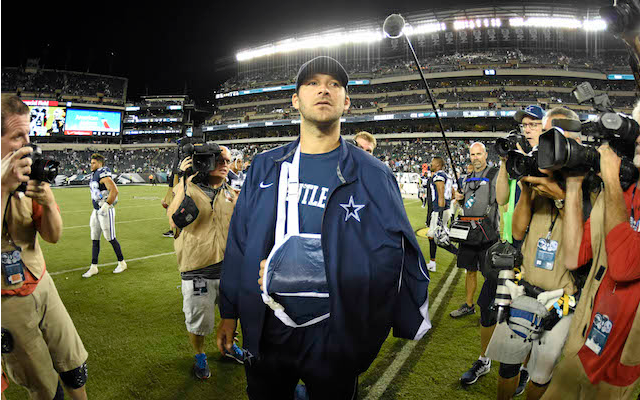 Now about that prospect. The Cowboys can deny interest in taking a quarterback at No. 4 all they want but the reality is it's a situation for a franchise where you have to consider doubling down on the position. Romo turns 36 in April and has been frequently injured.  
They haven't denied, per se, with Jason Garrett saying they'd meet with several of them while in Indianapolis. One of those guys is Memphis quarterback Paxton Lynch, who had a formal visit with the Cowboys on Friday night scheduled.
"Whatever I need to do to help that team, I will do," Lynch said. "If it's coming in and sitting behind a guy, I'm still going to compete and push him. That's how teams get better in my opinion."
Going to the Cowboys would mean at minimum one year of sitting and watching Romo, almost like a redshirt season. Lynch didn't seem to have a problem with that.
"I'd be more than OK with doing whatever was best for me and the team and whatever team I got picked up by. When I first got to school, I didn't want to redshirt or anything. I thought I could go in there and play, but I realized later on down the road as I grew up and matured, I realized that redshirting is a good thing," Lynch said.
"You get a chance to sit back and learn what you need to learn and take care of your business off the field. I know if I got to sit behind somebody like a veteran quarterback, whoever it may be, I know that that would be a great learning experience to develop me mentally and physically in the game, give me a year just to sit back and see how you handle things professionally."
For a team always so set on "win now" mode, it would be surprising to see the Cowboys draft and develop a new quarterback as high as a No. 4 pick.
But the reality is it would be a smart decision if Dallas is confident they can identify a franchise quarterback.
Whiffing would be a devastating blow to the franchise. Landing a transition quarterback once Romo is done? It's the sort of thing only the best and luckiest clubs hope to pull off. 
SportsLine's Mike McClure, a DFS pro with more than $1M in winnings, gives optimal lineup...

Check here for the latest news, rumors and updates for NFL coaching changes and searches

The Titans have tapped Texans defensive coordinator Mike Vrabel to take over as head coach
The government shutdown has come at a horrible time for NFL fans in the U.S. military

Bengals owner Mike Brown seems to be a huge fan of continuity

Our computer model simulated the AFC and NFC title games 10,000 times with surprising resu...