Cowboys QB Tony Romo likely out vs. Eagles, Garrett says not yet
Tony Romo is likely out vs. the Philadelphia Eagles in Week 17 after aggravating his back against the Redskins.
If the Dallas Cowboys are going to win the NFC East title, they're likely going have to do it without Tony Romo. Romo aggravated a prior back injury against Washington on Sunday and that injury will keep him from playing against Philadelphia in the Cowboys' regular-season finale next week, according to CBS Sports NFL Insider Jason La Canfora and multiple reports.
Romo's injury is a hernitated disk that will require surgery, ESPN.com first reported. 
A high-ranking Cowboys official told La Canfora that "It's looking that way" as far as Romo being out for the Eagles game. However, the team hasn't made a final determination. La Canfora also reported that surgery on the herniated disk may be inevitable, but there's no date set and the Cowboys will explore every option in terms of Romo playing.
As far as coach Jason Garrett is concerned, Romo is day-to-day. Kyle Orton is the only other QB on the roster. However, La Canfora reports that the club plans to bring in veteran QBs Tyler Thigpen, David Carr and John Skelton for workouts and plan to sign one of the three, according to league sources.
"He's going to get treatment each day and we'll evaluate it on a day-by-day basis and see what his status is for Wednesday and this coming week," Garrett said at his news conference on Monday. Garrett's news conference was delayed almost 30 minutes as reports of a possible Romo injury began to emerge. 
Garrett also refused to rule Romo out for Sunday's game against Philadelphia.
"We have not made that determination," Garrett said of Romo's playing status. "Like with any player the day after the game, we just want to see what the injury is."
Romo acknowledged Sunday that he injured the back against the Redskins, but he said it was just a "tweak."
"I tweaked it in the game and then for whatever reason then, the twist or whatever it was, definitely just made it not feel comfortable," Romo said.
Cowboys owner Jerry Jones also commented on Romo's back injury on Sunday, saying that the back injury was nothing new and that Romo had actually aggravated a prior injury.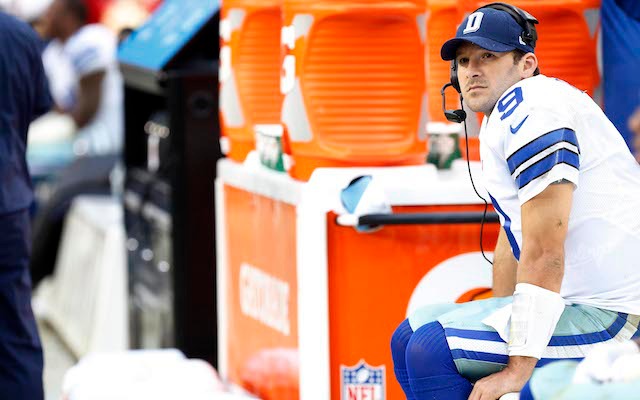 Romo threw a 10-yard touchdown pass on fourth-and-goal with under 90 seconds left against the Redskins on Sunday to give the Cowboys a dramatic win and keep their playoff hopes alive. The Dallas win set up a Week 17 showdown against Philadelphia in a de facto NFC East championship game.
The winner of Sunday night's game will win the division title and head for the playoffs. The loser will be done until September 2014. 
With Romo most likely out, that means Orton will get the start for the Cowboys. "If Tony can't play, lets stick Kyle in there and go forward," Garrett said of his backup quarterback.  
Orton has only thrown five passes this season and hasn't started a game since 2011. Coincidentally, Orton's last game as a starter also came in a regular-season finale. In the final week of the 2011 season, Orton led the Chiefs to a 7-3 win over Tim Tebow and the Broncos. 
Since Romo became the Cowboys' full-time starter in 2006, Dallas is 6-7 in games that he didn't play.
The Cowboys will also be without linebacker Sean Lee, who will miss his second straight game with a neck injury. 
Find out who will be lining up for the 2018 Super Bowl between New England and Philadelphi...

Who'll win MVP honors when the Eagles and Patriots clash? History favors a QB

The quarterback expects to be completely healthy for Super Bowl LII
The three-time Grammy winner will sing before Super Bowl LII on Feb. 4

There's no bigger stage in the world than the 50-yard line on Super Bowl Sunday

Who'd have thought paying tribute to the New York teams' biggest rivals would backfire?