Cowboys QB Tony Romo will make preseason debut vs. Ravens
Cowboys quarterback Tony Romo plans on playing against Baltimore. If Romo's on the field, it will be his first game action since undergoing back surgery last December.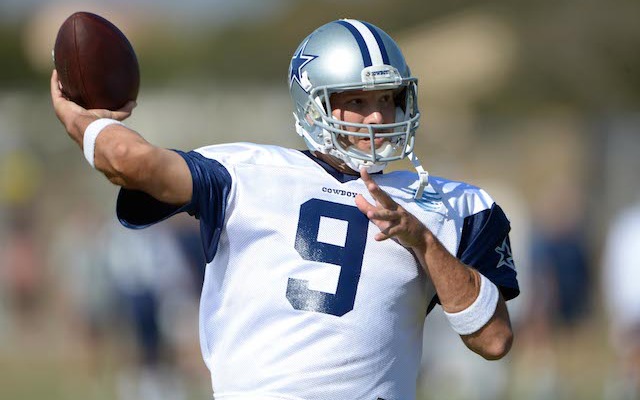 More NFL: Photos |  Videos & GIFs |  Training Camp updates | Manziel watch
It's been almost eight months since Tony Romo has taken a snap in a game situation, but that will change on Saturday. The Cowboys quarterback, who sat out the team's preseason opener, said he plans to play this week against Baltimore. 
Romo hasn't played in a game since undergoing back surgery in December. 
"I think you have to play in the preseason," Romo said on Tuesday. "Obviously, some people can't, but I do know from my perspective, this game is not just something where you can show up and think that you can do it. I think it's been proven far too many times that if you take too long of a break or don't get reps under you that you will be exposed in certain areas. I'm a firm believer that you have to play football to get better at football. Football's a way of life. It's not just [a] sometimes thing. It's an all-the-time thing if you're going to be a great player, and I think if you have the opportunity to play, you've got to play."
The playing time against Baltimore will give Romo a chance to get on the same page as passing game coordinator Scott Linehan. The former Lions offensive coordinator will be calling plays for the Cowboys this year. 
CBS Sports NFL Insider Jason La Canfora believes that Romo will play in a "very limited role"  against the Ravens. Romo told La Canfora that there have been no setbacks so far and that the team has 'a plan and we follow that plan and it's continued to pay dividends.'
"If you go through an offseason surgery, you've got to reteach yourself small things," Romo said. "The big things are always there. You've done them for years. It's just a couple things tightened up as far as what you want, and it's been nice to see that."
The Cowboys will need a lot from Romo and the Dallas offense if the team's going to be successful this season. The offense will have to make up for a defense that ranked dead last in the NFL in 2013 and doesn't look to be much improved heading into 2014. 
The Oklahoma quarterback isn't exactly being discreet about where he wants to begin his NFL...

No one was hurt, but Fournette's Mercedes lost a bumper

It might be time to begin worrying about the Patriots quarterback
The Patriots are still odds-on favorites, but the other teams are closing in

SportsLine tapped into its Vegas sources to see who professional bettors like Sunday

Philadelphia readies itself for a massive celebration if the Eagles advance to the Super B...